Ancestors, Legends & Time
As we near Christmas, our minds and memories go back in time to Christmas long ago. One of the busiest places in town was the Hub Department Store. After all, that is where Santa hung out to talk with the kids.
Kamisar started his business in 1915 in the Donehoo Building, on the south end of the block, at 15 S. Allen St. (when Main was still know as Allen Street), as the Kamisar & Ropfogel Firm.
The company grew, and in 1919 the store was moved across the street to replace the Savings Store (formerly S.C. Corl Clothing and Dry Goods) at 22, 24, 26 S. Allen St. Kamisar out his partner, Rogfogel, and changed the name of his business to The Hub. It was a small business firm competing against larger, well established firms, but his store was stocked with good merchandise and the business continued to prosper. 
In 1926, Kamisar was able to buy the Middlewest Building at 1 S. Main St. (Allen Street became Main Street in 1920.) It took three months to remodel the building, as spaces for a restaurant, billiard parlor and barber shop were transformed into the impressive clothing store. The Hub took up the ground floor with a semi circle entrance of glass showcases to display merchandise. The upstairs was apartments. There were plans already in the works to add an addition at the rear of the store.
Henry liked to refer to employees as the Hub Store family. The family members present on Nov. 15, 1926, for the grand opening were: Marcus Harrison in the shoe department; Hettie Sutherlanf in the accountng department; Minnie Jones in silk and dress goods; Addie Gearhart with toilet goods and advertising; Chloe Stinnet in ladies ready to wear; Irene Kephart keeping the books; Blanch Cruze in alterations; Frank Dodson, the shoe department personelle; W.P. Brown in men's clothing and decorating; Maude Stinnett in the hosiery department Mattie McNeal, staple dry goods; and Freddie Smith, deliveries.
A special thanks to Garnet Smith Lyster, sister of the delivery guy, Freddie Smith, who shared this info with us. Garnet lives in Folsom, Calif. and is also a cousin to Webb City's Goldie Kirk.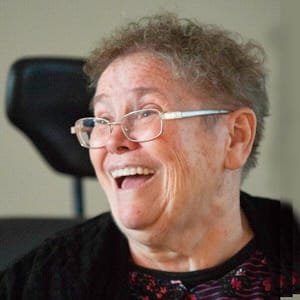 Jeanne Newby
A lot of us appreciate the Bradbury Bishop Fountain, but Jeanne actually worked behind the counter making sodas while she was in high school. She knows everything about Webb City and is a member of the Webb City R-7 School Board.