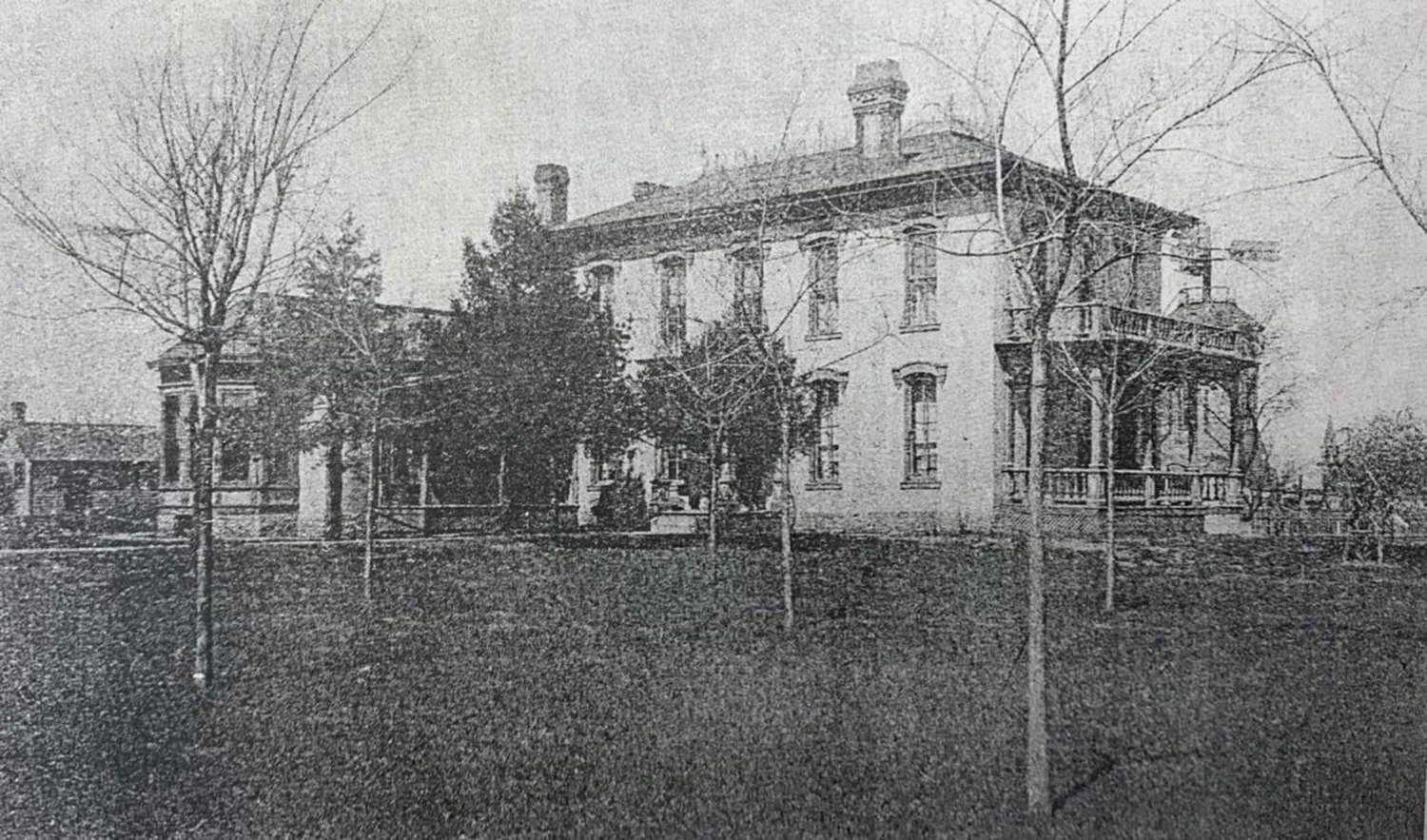 Webb City's first brick house, built by John C. Webb on the northwest corner of Webb Street and Broadway, became the office of the Daily Register newspaper.
The Sentinel had a competitor: the Daily Register
 Many times I have mentioned the first brick home in Webb City which was built by our founder, John C. Webb with the help of McNair. The home was located on the west side of Webb Street between Broadway and Daugherty streets. Later 112 North Webb was the location of the Daily Register, the Civic Drive –In and then, Myers, Baker Rife and Denham CPAs and the law firm of Myers, Taylor Whitworth and Associates. It has also been a health clinic and doctor's office.
Larry Larsen tore down the original Webb house, in 1936 to build the present building, which first housed the Civic Drive-in Restaurant.
John C. Webb had built his new house in 1882 north of the location of his original log cabin that he had lived in for almost 20 years before he discovered lead. This house was his symbol of success, but he didn't get to live in it very long before his death in 1883. His daughter, Mary Sue Webb Burgner lived in the home after the death of her father. She also did not live in the house very long.
In 1891, a gentleman by the name of W.A. Snodgrass established a newspaper in Webb City known as the Daily Register. He housed his business in the old Webb/Burgner house at 112 North Webb Street. The paper was a highly thought of institution, doing a weekly edition on each Monday.
In the meantime, an up and coming young man by the name of Arthur B. Rozelle was making quite a name for himself in the newspaper business. In 1882 at the age of 22, Rozelle founded a newspaper in Iowa which he operated for about ten years before selling it and heading south to Missouri. In 1892, in the little town of Tarkio in northwest Missouri, Rozelle started a new newspaper which he operated for about six years before being lured to Lamar, Missouri in 1898 where he purchased the Lamar Leader. While in Tarkio, Arthur participated in a bit of politics as he was appointed Missouri's Labor Commissioner under Governor L.V. Stevens for one term. In 1899, Arthur married a young lady named Pauline Stone from St. Louis, who was the cousin of Missouri Senator, W.J. Stone. Pauline passed away in 1901. Rozelle was once again lured to another town, this time Webb City. Rozelle purchased the Daily Register from Snodgrass in 1903.
Rozelle was a man of modern thought and one of his first business decisions upon arriving in Webb City was to do the unthinkable and he hired a young lady as a reporter. Miss Alice C. Cresswell, daughter of Judge E. Cresswell had moved from Nashville, Missouri to Webb City two years earlier. Desperately seeking an opportunity to become a reporter, Alice dropped out of high school to take on this new position with an established newspaper. Do not think ill of this young lady as she continued her education by attending night classes at the Great Western Normal School and Business College located at College and Austin in Webb City. She not only finished her high school classes but went on to finish two years of college.
Alice was driven by a need to succeed, and she moved up the career ladder very quickly from reporter to city editor to business manager within five years. The twenty-three year old dynamo then took a major step in her career when she married forty-eight year old Arthur Rozelle in 1908 promoting her to co-publisher of the Daily Register. Alice Rozelle was one of very few women publishers in the state of Missouri. But all of this excitement was shared with the excitement of being Mrs. Arthur Rozelle, married to a man she had grown to love and admire while working side by side in a business they both loved.
The Daily Register reported on the mining activities in the area and kept the couple busy, but not too busy to start a family. Their first child, a baby boy died at the age of seven months. A year later, a daughter Alice was born. Then after only four years of marriage, tragedy struck the couple once again as Arthur became quite ill as a result of blood poisoning from carbuncles.. Alice was pregnant with their second daughter, trying to take care of a small child, run a newspaper and be at the side of her dying husband.
Arthur was a well loved citizen of Webb City and knowing he needed peace and quiet to recover, Mayor W.V. K. Spencer, ordered the streets near the Rozelle home to be roped off to cut back on traffic and noise that might effect the slightest chance the editor had for recovery. Children were cautioned not to shoot firecrackers before the 4th of July, and avoid all excessive noise. Despite the precautions, Arthur Rozelle passed away on June 28th, 1912 at the age of 52.
There was such a large turnout for the funeral of this highly respected man, that the S.W. Missouri Electric Railway, provided a streetcar to carry mourners from the Methodist Church to the Mt. Hope Cemetery. In the paper, it was stated, "If everyone for whom Arthur had done some loving kindness brings a single blossom to his bier he would sleep beneath a wilderness of flowers." And that is just what happened. Everyone remember Arthur Rozelle with a blossom, even small children who knew him remembered him by placing a blossom on his grave.
Arthur left his business in good hands as Alice was a pioneer among women. A widow at 27, with one young child and another on the way, a business to run and a reputation to uphold. But life went on.
Alice was now publisher and editor, and she took on this responsibility with a strong desire to succeed. At the height of the newspaper's success, under Alice's charge, the Webb City Daily Register had a circulation of 12,000 and was published with 8 to 16 pages, six days a week.
In 1918, the mining industry dwindled and Alice closed down the newspaper but kept the title in hopes of a revival of the mining business, which would create a need for the Register. In the meantime, she kept busy doing freelance writing, advertising promotions, and reporting for other area newspapers.
Many of you may remember that the daughter, born after Arthur's death was Nadine Rozelle who married P.Don Crockett, one of Webb City's finest mayors. The home that was mentioned at 423 North Roane has been in the family since 1901. Eminger and Elija Jane Cresswell, parents of Alice Rozelle built three houses on Roane when they first move to Webb City with the last being completed in 1906. They had planned on using all three as rental houses, but plans change and they decided to live in one. Their daughter Alice Rozelle lived there, as did her daughter, Nadine and then the daughters of Nadine and Don Crockett live there making it four generations. Alice Cresswell Rozelle lived to the age of 87, having lived in that house for 71 of those 87 years. Nadine Rozelle Crockett lived to the age of 82 and had lived in that house all of her life.
Arthur and Alice Rozelle left their mark in Webb City. Both were well thought of and both were masters in their trade. Arthur left his business in good hands as Alice was a strong pioneer of women in business. At her death, in 1972, Alice C. Rozelle was given the title of "Dean of County's Journalists".
A special thanks to Alice Crockett Ladd for helping fill in the blanks on this wonderful couple that Webb City claims as part of its heritage.