Cardinal helmet float builders are Vicki Groff, Rebecca Perry, Lucinda Copeland and Marti Pittman. Paint the Town Red Parade judges awarded the float the Most Spirit award.
Group from the '60s builds the float that wins Most Spirit prize
It took 6,000 napkins and a month of stuffing them
The helmet float in the Paint the Town Red Parade Wednesday was a throwback to the era when chicken wire stuffed with napkins was the primary decoration for homecoming.
The helmet's driver, Rebecca Perry, had the idea for it but calls it a "total collaboration" with her friends, Vicki Groff, Marti Pittman and Lucinda Copeland. 
Perry explained that her grandson, Max Stovern, is a senior this year. "I wanted to do something special and thought, remember how we used to stick napkins in chicken wire."
Perry, Groff and Pittman are all 1968 Webb City High School graduates. They didn't make floats when they were in high school, but faculty sponsors had them stick napkins in chicken wire for backgrounds.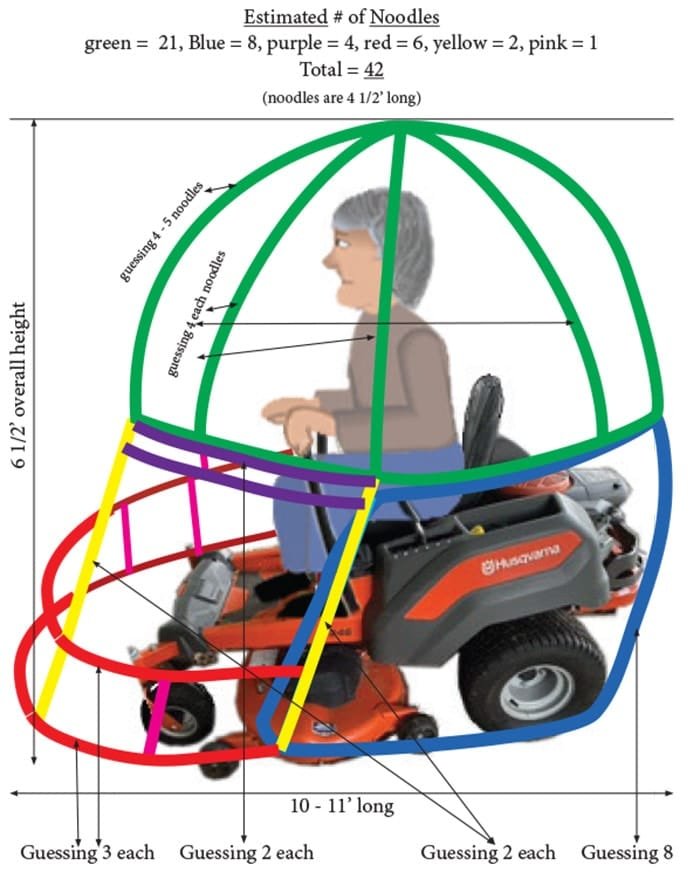 Rebecca Perry sold the idea of the float to her friends with this plan.
Making the crown of the helmet was the hardest part.
The initial plans were devised by Perry, but changes, such as strengthening the pool noodles with copper pipe, were made as needed.
The helmet float is actually the Cardinal Scale parade entry, but as Perry says, "The president of Cardinal Scale (her son-in-law, Matt Stovern) had no idea I was doing this. He did give his approval after the fact."
It took a month of float work nights to get the project parade-ready. Making the crown of the helmet was the hardest part. Pittman's son, Chuck Pittman, had to be called in to help lift the helmet on top of the riding lawn mower.
"All four of us are completely amazed that we pulled off," said Perry.
During the last week of tweaking it, Pittman said, "We were thinking about putting 68 on the back."