Ancestors, Legends & Time
Two memorable businesses got their start in Webb City garages
Roy and Ida Williams lived on Madison Street. Roy was the purchasing agent at Myers Motors, at Fifth and Wall streets in Joplin. Many times at home, Roy would make a pot of chili that always brought many compliments from his guests, and they would ask for his recipe. So, Roy began making packages of his chili powder to sell to those who loved his chili. He would work until the wee hours of the morning filling the orders he had for his chili powder.
Finally, in 1952, after 20 years with Myers Motor Co., Roy quit. He had built a barn behind his house that allowed him to have enough room to make more chili packages and his business had grown. After his retirement, he began to commercially market the product. Business continued to grow. The business was purchased in 1963 and moved to Lenexa, Kan. It was a shame to lose a manufacturer from Webb City, but Williams Chili Seasoning is now distributed all over the United States.
During the popular days of the Webb City Mining Days Celebration, the famous Mining Days Taco Salads were made with Williams Chili Seasoning. For weeks before the scheduled Mining Days, we would make gallons of Williams Chili and freeze it into bricks and thaw as needed each day of the Mining Days Celebration. No other chili would do but Williams Chili. A friend, James Toutz, often said he loved to make Williams Chili for his friends. They always loved it and he was proud to say that the business was started in good ole Webb City in the garage at 1302 S. Madison.
Williams Chili Seasoning also played a part in making the Bill's Drive In footlongs so popular. 
Bill's Drive In chili recipe
2 lbs, ground sirloin
Brown sirloin in 2 cups of water (this helps make the meat a fine texture). Keep it broken up while browning.
Add: 2 Tbsp. garlic powder, 2 tsp. white pepper, 2 tsp. cumin, 4 Tbsp. onion flakes, 2 Tbsp. sea salt, 2 pkgs. William's Chili Seasoning, 2-16 oz. cans diced tomatoes, 2-16 oz. cans crushed tomatoes.
Simmer for 2 hours, uncovered. Stir often.
Add 2 more cups of water and 1 cup oatmeal. Simmer another hour.
Scoop off any grease that floats to the top. Put in the fridge overnight. Heat when ready to serve. The chili is not the only ingredient that made the Bill's footlong so great…you have to STEAM THE BUN, and you have to serve it with relish, mustard, finely chopped onions. Add cheese if you like.
This chili can be used for many other recipes calling for chili.
NOTES on Bill's chili from Bill himself: We used very lean ground beef (93/7). There was no grease to scoop off. I used a potato masher while simmering to keep that fine texture.
REMEMBER- Steaming the buns is a must.
Dawson Cabinet Co.
Another Webb City business that started in a garage in Webb City was Dawson Furniture Co. 
Alfred and Alma Dawson started the business behind their house at 712 W. Daugherty St. Alfred Dawson began his career of creating with wood at the Eaton Casket Co. in Webb City. This talent carried him into World War II, where he continued to share his skill in making caskets.
Returning home, Alfred went to work for Heirloom Furniture Co. in Joplin. In his spare time, he would work in the garage, crafting, reproductions and restoring antiques. Alfred did not work alone, as the entire family joined in on the hard work. Alma, Gary, Jim and Jack were taught by the master and the business grew.
They eventually left the garage for bigger facilities and in 1957 Dawson Cabinet Co. was officially established on Main Street in Carterville. 
The business was launched into mass production and became nationally known when Montgomery Ward offered the solid oak furniture in a catalog. Later, located on 17th Street, the business continued to be a family organization, with several generations working together. What a legacy left by Alfred and Alma Dawson… and it began in their garage.
Of course, many garages are used to sell unwanted items that have accumulated in the house. Many garage doors are opened only a couple times a year as the family tries again to sell the unwanted item in the garage that have accumulated even more.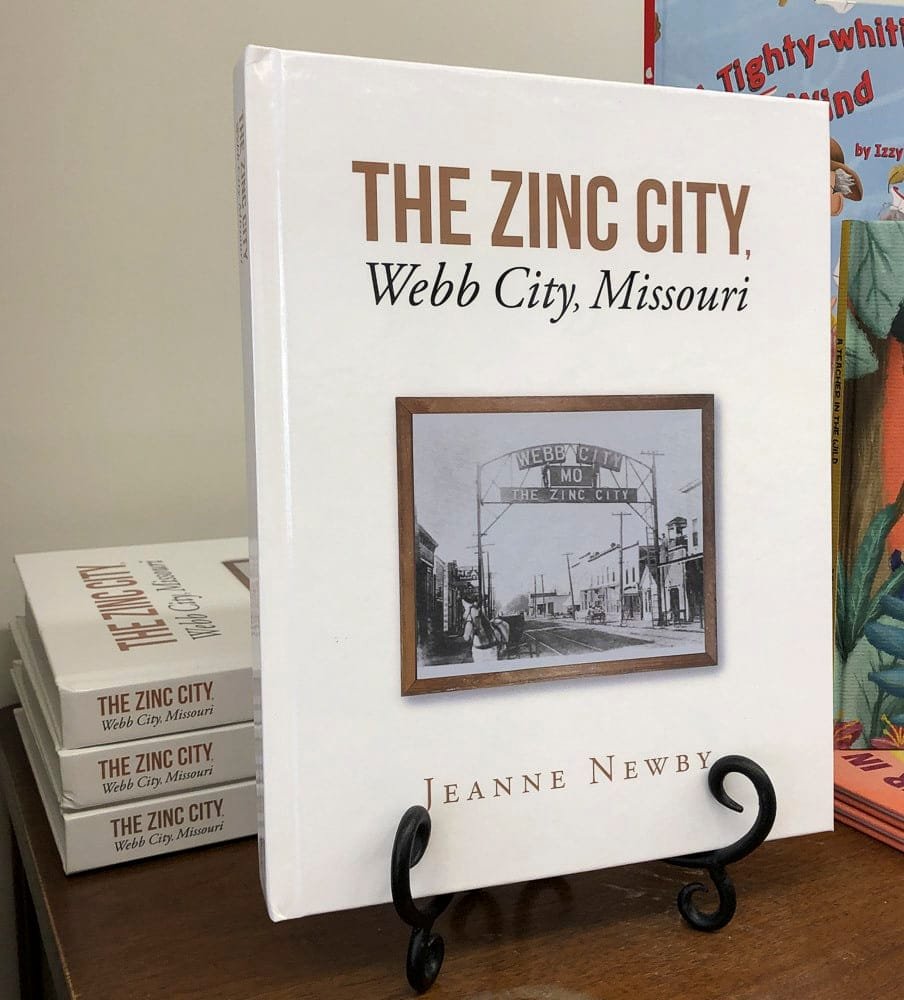 Jeanne's new book, "The Zinc City, Webb City, Missouri" is now available at Webb City Chamber office and other local retailers, such as Maggie Jane's Gifts, at 8 S. Main St.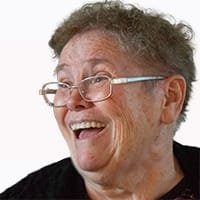 Jeanne Newby
A lot of us appreciate the Bradbury Bishop Fountain, but Jeanne actually worked behind the counter making sodas while she was in high school. She knows everything about Webb City and is a member of the Webb City R-7 School Board.