Officer Austin Fohey
(POLICE CHIEF DON MELTON PHOTOS)
Two officers pull woman through window to escape fire
Already recovering from surgery, Krista Stark is now in ICU being treated for smoke inhalation
On Monday, the day after her Webb City home burned, Krista Stark was recovering from smoke inhalation in the intensive care unit of a local hospital.
Krista and Jason Stark's house at 514 W. Third St., caught fire Sunday night. Because of recent surgery, Krista was practically immobile and couldn't escape on her own.
Webb City Police Sgt. Alex Bickett reports that he and fellow officer Austin Fohey, in separate vehicles, were dispatched to the structure fire with a female trapped inside. They were also told that the trapped woman had recently undergone spinal surgery.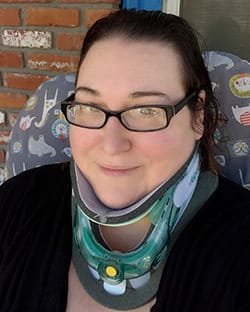 A photo Krista Stark posted of herself on Facebook before the house fire.
"Fohey arrived quickly on scene first. I arrived right after him," reports Bickett. "We were directed to the back where the house was engulfed in flames.
"They said that there was a female trapped in a back room. Fohey was directed to the window where the female was supposed to be. He quickly found a ladder to use to bust the window out. I used a shovel to attempt to rake the glass out along with the melting blinds. 
"Heavy smoke was rolling out the window and the room was filled. We yelled and shined out lights for her. She eventually was able to reach our arms inside the window. We could hardly see her until she got close to the window. 
"Fohey, her husband (Jason), and I were able to extract her from the room. Fohey and I walked her to EMS."
Meanwhile, Webb City firefighters were dispatched at 7:01 p.m. Sunday to the vicinity when they saw heavy fire coming from the rear of the Starks' house.
Police officers Bickett and Fohey informed firefighters that they had removed Krista Stark through a window and that her husband, Jason, and children had gotten out and were accounted for.
A METS ambulance crew took Krista Stark to the hospital.
Battalion 1, led by battalion chief Mark Metsker, responded with two crews on Engine 1 and Truck 1. A third crew was called in to bring Engine 2 to the scene. Joplin and Oronogo departments each sent an engine crew to assist.
There was heavy damage at the rear of the house and the entire interior was damaged by smoke and water. The cause of the fire was said to be cooking oil that ignited. 
The American Red Cross assisted the family with displacement services.
Losing her family's house compounds Krista Stark's problems. Although she was fully vaccinated, she is suffering long-term effects of COVID-19 and is wearing a neck brace following her recent surgery.
The latest information on Facebook was that she had been transferred to a better-equipped hospital in Springfield.
A friend has set up a GoFundMe account for the Stark family. As of Wednesday night, the total had surpassed $12,000.