Master Gardener Olivene Nichols shows kids how to water plants in their garden at the Webb City Farmers Market.
Vendors make the market better by recruiting and helping new vendors
Cool off with a South American snow cone
South American flavors are filling the market, along with tons of produce. 
You're already familiar with Pupuseria Jandres. Our friend Mabel at Harmony Hill ran into Marta shopping one day and struck up a conversation that led to Mabel encouraging Marta to sell pupusas at the market. Mabel also taught Marta her baking recipes so she could sell on Thursdays while Mabel is busy in their fields. Then a group of Mennonites helped Marta build an inspected kitchen so she could sell at the market. Not to brag, because that is the last thing the Brubackers would do – but don't we have wonderful vendors?
(The Brubackers don't tell you about the lovely things they routinely do except in an off-handed way in talking about what fun they had working together. Their idea of fun is working, especially with a group. They would never tell you about good things they do for others just so you know they do good things.)
Our newest vendor is Family Pleitez, who plan to be at the market tomorrow with their minutas, a traditional South American snow cone served with a choice of locally made syrup flavors. Just the thing for a hot day.
Also look for a new ready-to-eat choice and some crops making their first appearance of the season – cherry tomatoes, green tomatoes, summer squash, blueberries and blackberries, to name just a few.
Tomorrow MU Extension nutritionists will share a sautéed summer squash recipe featuring market yellow squash and zucchini. Enjoy a sample, take home the recipe and add this summer favorite to your supper table. You can also enjoy market squash when you're eating out. 
The chef for Mercy Hospital was at the market Tuesday picking up squash for their cafeteria. 
Last week I had a delicious side dish featuring market squash and tomatoes at Just A Taste downtown.
And it's not just local veggies. Yesterday I discovered my new favorite dish at Just a Taste – a blistered caesar with our own Stormy Farms' chicken. It was amazingly good.
Other activities on tap for tomorrow's market include the Free Kids meal – a ham-and-cheese melt with sugar peas and apple slices, plus milk. The meal can be packed to go or children can enjoy it on the picnic tables under the shade of the big tent north of the pavilion. Kids don't need to be present but adults should show a photo of themselves with their children so we can get a headcount. The Kids Meal is served Thursdays from 11 to 1 under the green canopy across from the red barn. Any child, aged 1 through 18, receives a free meal regardless of income or where they live.
Every Thursday at 12:30 p.m. MU Extension presents Eating from the Garden, an interactive lesson about the foods we eat and how they grow. We stretch, we listen to stories, we get moving and learning.
Then at 1 p.m. Ms. Vicki, from Webb City Library for Tails & Tales, leads an outdoor story time and craft. Both activities are located near the Kids Tent north of the pavilion.
Lunch Thursday is international: Central American from Pupuseria Jandres and Asian from Songbird's Kitchen. Doug Dicharry is on the market stage.
Saturday has lots to offer
Agee's Herbs, Fruits and Vegetables will be back for the first time this year with blackberries. Jane's Art Glass will be on hand. We'll also have 2T's Soap, DnD Smoked, Garrett Family Farm, Misty Morning, and Sunny Lane with meats, Lynn Sharpening Service (time to get those garden tools sharpened!), Good Golly Tamale, and a host of other vendors.
Maypop Flower Farm only comes on Saturday, and Molly has really outdone herself this year. She's bringing fabulous bouquets that if properly cared for should brighten your home, or that of a friend, all week. A couple of other Saturday-only vendors, Redings Mill and Sunflower Bakery, have been doing a banner business at the market all spring, and I expect they're gearing up for a big summer. 
I love to see those tables loaded at opening and sparse by closing. That means our customers are happy and our small businesses prospering.
The Free Kids Meal pack on Saturday is:
Breakfast – a muffin with local raspberries, a side of fresh Braker Farm blackberries, and milk.

Lunch – cheese & crackers, market veggies, banana, and milk. 
The Free Kids Meal on Saturday is served under the kids tent north of the pavilion from 9 to 11.
Cooking for a Cause benefits the Wildcat Glades Friends Group. A full breakfast is $6, a light one is $3. Breakfast is served from 8:30 to 11 under the green canopy just north of the pavilion.
Justin Cauble is on the market stage.
We're celebrating bees on Saturday. Master Gardener Eric is talking to young and old about good plants for attracting pollinators. Helm Family Farm will have their observation hive near the market gardens north of the kids tent. Kids can plant and take home a nasturtium and do a bee craft.
And then we're back to Tuesday
Ghetto Taco and Dazed and Cornfused will be on hand with street tacos and corn on the cob. Songbird Kitchen is expected to have egg rolls, crab Rangoon and fried rice. 
The free kids meal Tuesday is served from 4:30 to 6:30 and will be a hamburger with market veggies, baked sweet potato, blackberries, and milk.
It will be a great week to visit the market. Remember, if you want to avoid the hassle of crowds or tight parking, come at least 30 minutes after opening on a weekday and an hour after on Saturday. We're getting enough supply that you should only miss the crowds, not the selection – until near the end of market. 
And, of course, the weekday markets are always less crowded and, depending on what you're looking for, may have just as good a selection. Check the market Facebook page the day before market. The manager usually has a list of who is expected so you can decide on your best days to visit.
See you at the market!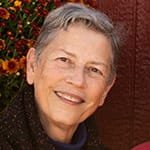 Eileen Nichols founded the Webb City Farmers Market in 2000. From a handful of producers, the market has grown to become nationally recognized.