"Pomp and Circumstance" plays as the Class of  2021 makes its entrance.
Families of the graduates fill the main grandstand at Cardinal Stadium.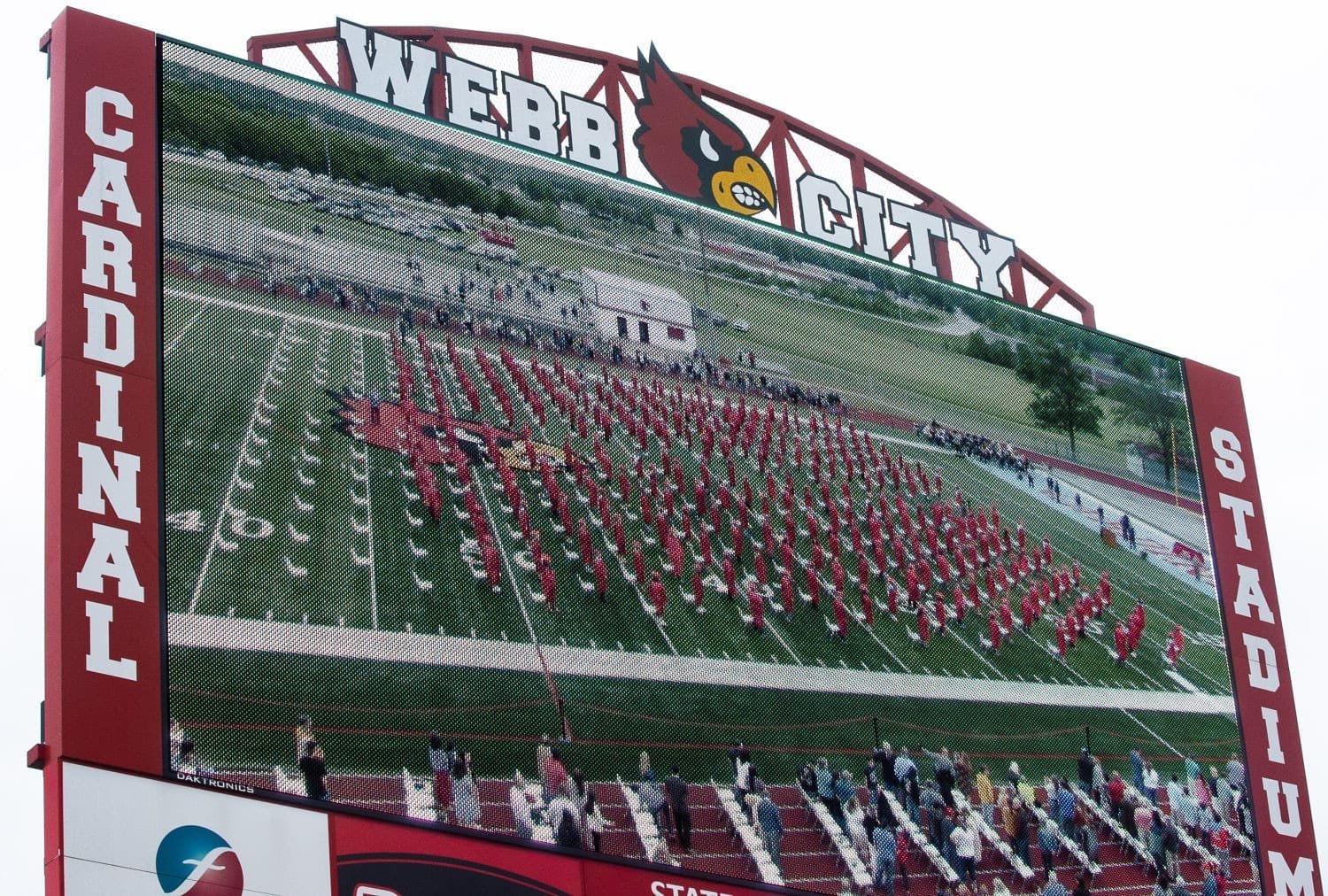 The seating arrangement, facing the video board, is a holdover from last year, when it was developed because of the pandemic.
Graduates stand at attention as the colors are presented by the JROTC Color Guard.
Unusual senior year ends with rather normal commencement
Their unusual senior year ended in the usual manner Friday as close to 300 members of the Webb City High School Class of 2021 received their diplomas at Cardinal Stadium.
Rain clouds threatened (as usual it seems) but only dampened the large crowd that evening with a light mist. Unlike last year, when pandemic caution ended in-person classes in March and postponed  commencement until mid June, it was dark before the ceremony ended and umbrellas were opened.
Principal Josh Flora said he was proud of the seniors because "we were asking a lot of them" as in-person classes resumed in August 2020. He recalled how he relied on the seniors to lead the other classes in doing what had to be done to stay in school.
"We weren't sure we'd make it to Christmas break, let alone May," he said. "Class of 2021, you are truly a special group."
Valedictorian Shae Gilstrap credited her classmates because, "No matter how inconvenient this year has been, you made it through it."
Superintendent Tony Rossetti also commended the seniors for helping to keep school in session despite the pandemic and how important that was. "We are here. We are in person. And we are better together," he said.
Graduates, including Sophie Roy, performed with the Wind Ensemble.
It sprinkling when Cail Tingle's name was enunciated. He was among nearly 300 graduates receiving their diplomas.
HONOR DIPLOMAS
Summa Cum Laude (4.0 and above)
Valedictorian – Shae Gilstrap
Salutatorians – Rylee Ball, Cayden Phillips
Kylee Bard, Ella Cates, Joseph Dawson, Mariah Francisco, Emma Garrison, Trenton Hayes, Aili McFall, Elease McFall, Mileah Metcalf, Logan Osterman, Gavin Phillips, Sophie Roy
Magna Cum Laude (3.67 – 3.99)
Henry Angér, Aliya Atkinson, Thomas Beard, Reagan Broaddus, Dylan Byrd, Gary Clinton, Charlie Collins, Caleb Cook, Teagan Davis, Caden Duke, Anna Hettinger, Rylie Huff, Deborah Ivy, Sierra Kimbrough, Jordan Kraus, Sydney Lopez, Jonathan Melton, Noah Mitchell, Sarah Oathout, Zoe Ortiz, Velissia Perez, Morgan Rickey, Cale Stephens, Cara Stevens, Abigail Stork, Samantha Tankersley, Tyler Wade, Owen Weller
Cum Laude (3.3 – 3.66)
Madison Bay, Roger Carranco, Hunter Chapman, Jackson Dill, Lauren Gilpin, Aubrey Hardy, Danecca Heffren, Alexander Johnson, Caiden Johnson, Chloe Jones, Samara McKowen, Zetthew Meister, Drake Miller, Treghan Parker, Robert Pearish, Samantha Schenck, Mason Wade, Samuel Winesburg, Taylor Yockey