Norval M. Matthews left us with two books about the history of Webb City.
Ancestors, Legends & Time
We can thank Harry Hood and Norval Matthews for leaving us the history and first-hand accounts of early Webb City
I'm taking a moment to write about a couple of our Webb historians of the past – the ones who took the time to write down some information for future generations.
Harry C. Hood Sr.
A native of southwest Missouri, Harry Hood Sr. was born Dec. 28, 1905, in Johnstown, on the south side of Carterville. He often said that he grew up within 50 yards of the Southwest Missouri Railroad tracks, and his house was situated on mining ground. This area was in his blood.
As did most people born in the same era of Harry, he rode the streetcars to work and back. He rode out to Lakeside, and to get to any town in the area, he rode a streetcar. Harry said he didn't mind paying the fare to get where he was going, but occasionally, late at night, the conductor did not bother to collect his money from him. And many a time, Harry would just jump on the front steps and hang on till he got where he was going.
Harry did not grow up in a fancy house, it was just a home. The rent for his home sitting on mining ground was one dollar per year. His barrel of water was delivered twice a week by the tank wagon. He used his water for drinking and cooking. He lit his house with coal oil lamps, and he said his house was never painted.
Harry was not alone in his description of his life. He worked in the mines of Missouri, Kansas and Oklahoma. For a change of pace, he even worked at the Carthage Marble Quarry for a short while.
Harry was just an ordinary man, living an ordinary life in an ordinary little mining town. But the one thing Harry did was write down his memories for future generations to share. In 1976, as Webb City was celebrating her centennial along with the United States bicentennial, Harry wrote "The Southwest Missouri Railroad," a book about the streetcar association that was a major part of his life. He dedicated the book to Lawrence McMecham, who had been an employee of the Southwest Missouri Railroad Company and who assisted Harry in accumulating the information. He also gives mention to the employees and the officers of the Southwest Missouri Railroad as well as all the people who spent their nickels, dimes and quarters for the car fare on the streetcars.
And we thank you, Harry, for preserving a wonderful piece of history.
In later years, Harry told a reporter a memory he had as a child. He said in 1906, a Webb City man, J.B. Gibson, who was mining around the Prosperity area dug up a prehistoric jaw bone. We don't have any documented papers to say what happened to the bone, but we do know bones like that could be sold for a pretty penny, which would be enticing to a miner who didn't make much money a day's work.
Norval Matthews
Norval Matthews, was born in Mt. Vernon, July 15, 1885, in the Matthew's log cabin, located where I-44 passes Mount Vernon. He attended a one-room schoolhouse in Lawrence County. His high school days were in Mt. Vernon where the entire school population consisted of only 125 students. Most children in those days, dropped out of school in the eighth grade to help out with the family income. Norval was one of the fortunate to receive an education.
At the age of 26, Norval was employed in the vocational division of Curtis Publishing Company (publishers of the Saturday Evening Post and the Ladies Home Journal). For five years, Norval and his wife, Marie Etter (whom he married September 18, 1921) lived out of motels as they traveled the Midwest.
During this time with the Curtis Publishing Company, Norval claimed that two people influenced him the most… one being Cyrus H. K. Curtis, publisher of the Saturday Evening Post. He said, "Mr. Curtis was one of the most conscientious I have ever met."
The other influential man was Norman Rockwell. Rockwell was at the height of his career when Norval Matthews met him. Norval's comments about Rockwell were, "I was young and very impressionable. He told me about his life and how he started painting. I was impressed with his ideas and how he reached the top of his profession."
Living without a home was too much for the newly weds and after five years, they decided to comeback home to Webb City. Here, Norval started his own business, Matthews Coffee Company. In August of 1931, at 1001 West Daugherty St., Matthews Coffee Company debuted selling coffee to institutional facilities.
During the war, when it seemed that it would be impossible to get coffee, other products were obtainable to replace this major product. Firms began to rely on the coffee company for this additional merchandise, which carried on after the war. Also, during the war, Crowder Camp was a welcomed account for the company.
Norval M. Matthews retired from the coffee company in 1968, leaving the business in the good hands of his son, John Matthews. Norval's intentions were to go fishing every day, but plans do change.
Norval Matthews: "The writer, the dreamer"
After retiring in 1968, Norval planned to go fishing everyday, but he didn't know what destiny had planned for him.
In 1964, when the Jasper County Junior College District was formed, Norval was one of the six trustees elected and later re-elected in 1968. Gov. Warren Hearnes appointed Norval as a member of the Board of Regents to control the senior college program.
In 1972, Norval was re-elected a member of the Board of Regents of Missouri Southern State College for a five-year term. Norval said that the establishment of the college and his election to the board was probably the greatest thing that ever happened to him.
In 1968, Norval was elected the district governor by District No. 611 of Rotary International. Norval had been active in Rotary Club for 15 years, even serving as president. During his year as governor, Norval and his wife Marie, traveled 27,000 miles by automobile and 18,000 miles by plane.
Starting with his retirement, Norval began working on his lifelong dream of writing a book. It was entitled "The Promised Land." The School of the Ozarks, at Point Lookout, published the book for Norval.
Norval then began his second hardbound book, "Discovering the Ozarks," which required many hours of research, also. While doing his research, Norval took on another huge project, attending college. In 1972, Norval held the title of the oldest freshman, at the age of 76. He took some writing courses and became a member of the writing staff for the Chart, the college newspaper.
Before the printing of "The Promised Land," Norval did a book for his granddaughter entitled "Four Grandfathers." It told about the Matthews side of the family that spanned the entire history of the nation, dating back to when the first Matthews came to Virginia in 1776.
Norval and Marie put a lot of work into the research and writing of "Discovering the Ozarks," as requested by the American Heritage Publications. In 1973, Norval sent the manuscript to the publishers and they wanted some changes. They wanted him to revamp it to more of a vacation land guide, leaving out all the history and special memories of the people Norval had interviewed. Norval felt this would rob the book of its true value, so he withdrew it from those publishers. The University of Oklahoma Press expressed an interest in scheduling it for some future publication date. That's where it was at the time of Norval's death in 1977.
October 15, 1980, was the dedication date of Matthews Hall at Missouri Southern State University. It seems appropriate that Norval Matthews would be honored with a building in his name, considering his proudest achievement in his life was associated with the organization and development of the college.
Norval Matthews made quite a contribution to our area and it was stated quite well in a reminiscence printed by the Chart.
"His is not a solitary dream. Others shared the dream, but few worked as hard as he to make it come true did. And even fewer worked as hard as he to make it grow did. The dream was a four-year college 'for the boys and girls of southwest Missouri'– a dream that became Missouri Southern State College. The dreamer was Norval Matthews."
A special thanks to those who remembered Norval Matthews so well and especially to John Matthews, who has deep roots in Webb City of which to be proud.
When informed he had a terminal illness, Mr. Matthews said, "Well, it's not like having the measles, is it?" Then he added, "I've got work to do." That was Norval Matthews, who after retirement from business in 1966, lived a lifetime…
NOTE: An "Amazing City," by Norval Matthews in 1976, was reprinted by the Mining Days Committee, in 1995.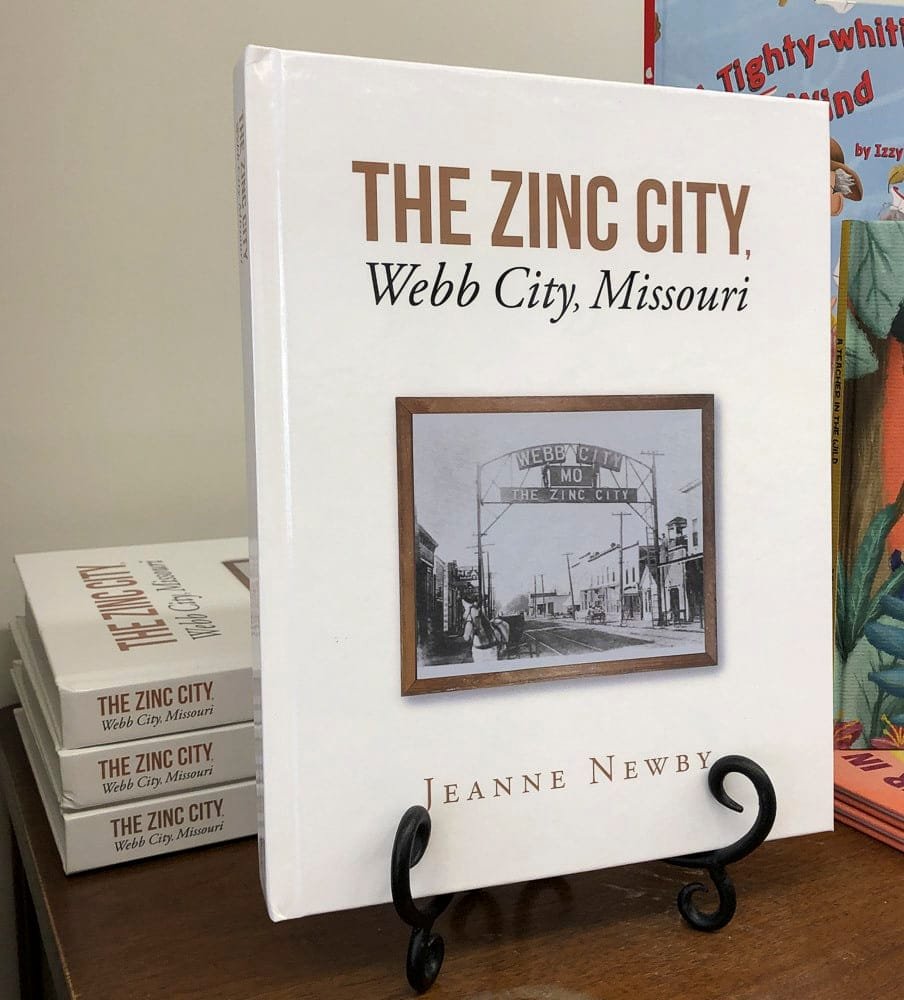 Jeanne's new book, "The Zinc City, Webb City, Missouri" is now available at Webb City Chamber office and other local retailers, such at Maggie Jane's Gifts, at 8 S. Main St.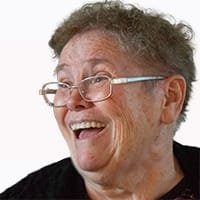 Jeanne Newby
A lot of us appreciate the Bradbury Bishop Fountain, but Jeanne actually worked behind the counter making sodas while she was in high school. She knows everything about Webb City and is a member of the Webb City R-7 School Board.