In this 1949 aerial view of Webb City, Main Street runs diagonally from Second Street north beyond Daugherty Street (top-right corner).
Ancestors, Legends & Time
Webb City had a glut of businesses in the 1940s
A view of some of the boarding houses in the 1940s, '50s and '60s in the 200 block of West Broadway (across from where the police department is today).
Checking into the history of Webb City in the 1940s showed quite a bit of activity in the city. There were many statistics about our fast growing town. One of the interesting statistics was that there were 1,100 telephones in service and there were 1,100 automobiles registered in the area whose population was estimated at about 8,000. So, let's check in to the year 1947 to see what businesses were available and feel the magic of a small town in the Midwest.
In previous years, Webb City boasted of many livery stables, but automobiles had replaced the horses to become the focus of travel. Webb City had her share of automobiles lots and repair shops. Not to mention, service stations and automobile repair garages. Western Auto was a well-known place to visit for automobile supplies; located at 18-20 Main St., owned by E.C. Mammen & Son. You could dial 968 to check on the supplies you needed. The Firestone brand could be found at Baird Supply Company at 106 N. Main St. (later home to OTASCO, Oklahoma Tire and Supply) over by Webb City Bank. They had what you needed for your car and you could call them at phone number 69.
In 1947, Webb City was not at a loss for insurance providers. You could shop at Hiron Insurance Company, located at 108 N. Webb St. or hop over one block to 108 N. Main St. to the Home Land and Loan Company, owned by A.D. Hatten and Harry Easley. Myers Insurance was located at 111 W. Church St., or you could stop in to see Harry Hulett at 27 S. Main St.. Roderique Mutual Insurance Agency was holding its own in Carterville at 222 East Main St. (and is still in business at 108 N. Main St. in Webb City). Insurance agents could also be found at Veatch Realty Company and at the Unity Building with LeRoy VanHoose.
There were approximately 33 grocery store in Webb City in 1947 with the small mom and pop grocery stores being slowly replaced by the larger supermarkets. Some of those supermarkets were: Day's Super Market at 16 S. Main St.; Kroger Grocery Store, 112 N. Main St. by Merchant & Miners Bank; Karbe's Supermarket, 205 N. Main St. Other grocery stores on Main Street were: Fred Crutcher, 504 N. Main St.; Herrod's Market, 106 S. Main St.; and Wilson's Grocery, 509 N. Main St.. That was quite a few grocery Store located on Main St. in Webb City.
There were other grocery stores in Webb City, with some of them very popular, like Broadway Market, 524 W. Broadway; Berrian's Market, 1001 W. Daugherty St.; Stone's Grocery, 916-918 W. Daugherty St. That were quite a few larger grocery stores in competition with each other.
We can't leave out the small mom and pop grocery stores where some of you might have spent your pennies on candy: Jelly's Cooper's, Couraw's, Coleman's, Campbell's, Cupp's, Dowel's, Flanigan's, Highley's, Hubbard's, Huddleston's, Magill's, May's, Orr's, Packer's, Elbert's, Ross', Tuder's, and Wyatt's. Now this was just the list for 1947. There have been many , many small mom and pop grocery stores in Webb city through the years.
You didn't need to run out to the ice plant in the north end of town anymore, when you were offered ice at Smith's Ice & Fuel on West Daugherty Street. Liquor was easy to find in a small circle. City Cigar and Liquor, 105 N. Main St.; Home Beverage Company, 107 E. Broadway; Joe's Package Store, 202 E. Daugherty St.; Patten's Package Store, 221 W. Daugherty St.; and Webb Street Store, 118 N. Webb St. You could get soft drinks at Home Beverage or Patten's, or better yet, run by Bradbury Bishop Drug Store, 201 N. Main St.; Haynes Drug Store, 101 W. Daugherty St.; Sard's Drug Store, 103 10 N. Madison St.; West End Pharmacy, 930 W. Daugherty St. for good fountain drinks or ice cream, as well as Purkhiser Ice Cream, 209 N. Main St. You could also get ice cream at Minerva Candy Company, 12 S. Main St. or at Thomas Williams Candy Company, 36 S. Main St.
Looking to buy from a department store? No problem, Webb City had three: The Hub, 1-5 S. Main St.; Huey's Store, 109-117 N. Main St. and 924 W. Daugherty St. plus Allen Department Store at 111 N. Main St. in Carterville. The dime store was S.H. Kress & Company, 4 S. Main, and right next door to the dime store was Gamble's, which in 1947 was owned by H.H. Flippo, where you could buy a little bit of everything.
Only one hotel was available in 1947 – the Midwest Hotel, 1 S. Main St.. But you could venture a little further from Main Street for some tourist cabins. The Webb City Courts were located at 1114 W. Broadway, and the Flanigan Tourist Cabins were at 1105 S. Jefferson St. Or you could just drive around town to see many of the older two-story homes offering rooms to rent for the night.
You might have been in search of a laundry or dry cleaner and we would have had that for you: Peter Pan Cleaners and Laundry, 201 E. Daugherty St.; Crescent Cleaners, 120 N. Webb St.; and the Parkway Cleaners, 414 W. Daugherty St.
Webb City was the place to be in the late '40s. We had it all. There was so much I didn't get to mention that was still in the heart of Webb City. I hope you had a good time walking the business streets of Webb City in the late '40s. Couldn't you just imagine folks passing by on the street, calling out a greeting or sharing a smile and a wave.
Webb City had a few slogans or mottoes over the years: "Get Down and Come In"; "Webb City-The Zinc City"; "The Town That Jack Built"; "Why Can't We?" (1972); and our current version "We Love it Here!"
All of these slogans and mottoes show the character, attitude and pride of Webb City, Missouri.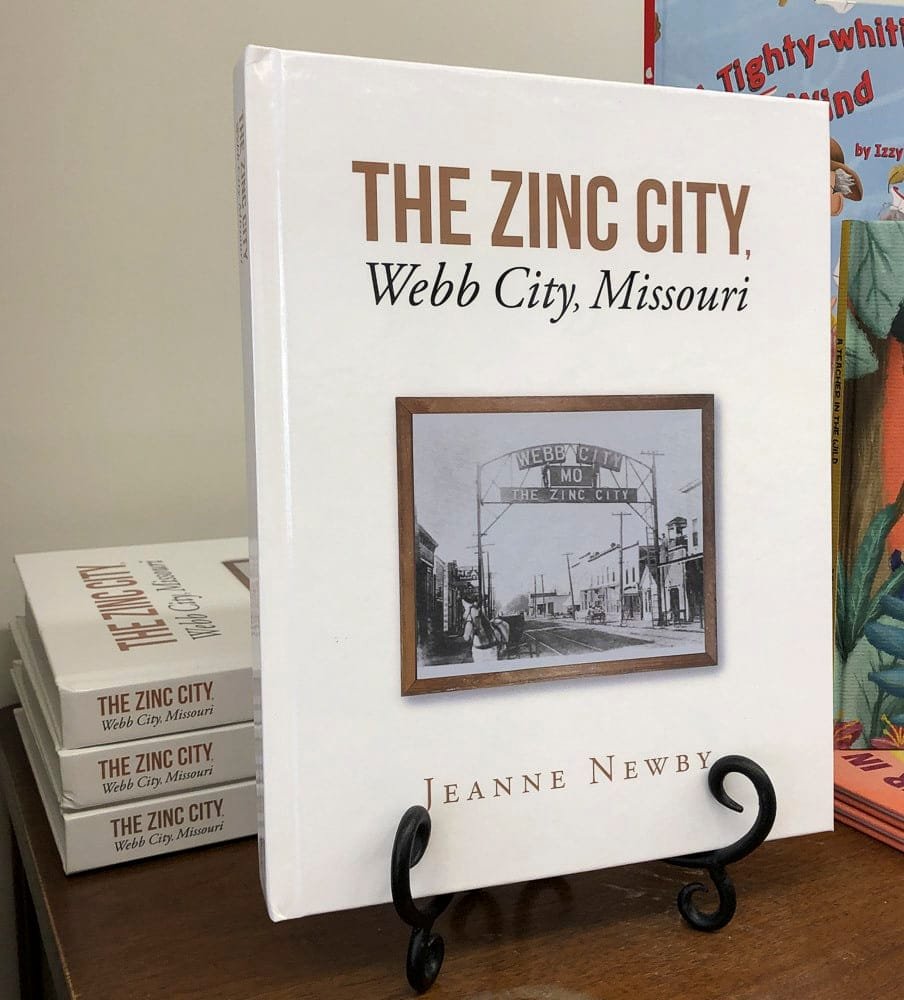 Jeanne's new book, "The Zinc City, Webb City, Missouri" is now available at Webb City Chamber office and other local retailers, such at Maggie Jane's Gifts, at 8 S. Main St.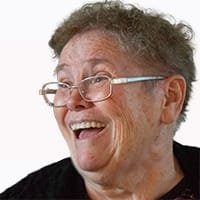 Jeanne Newby
A lot of us appreciate the Bradbury Bishop Fountain, but Jeanne actually worked behind the counter making sodas while she was in high school. She knows everything about Webb City and is a member of the Webb City R-7 School Board.