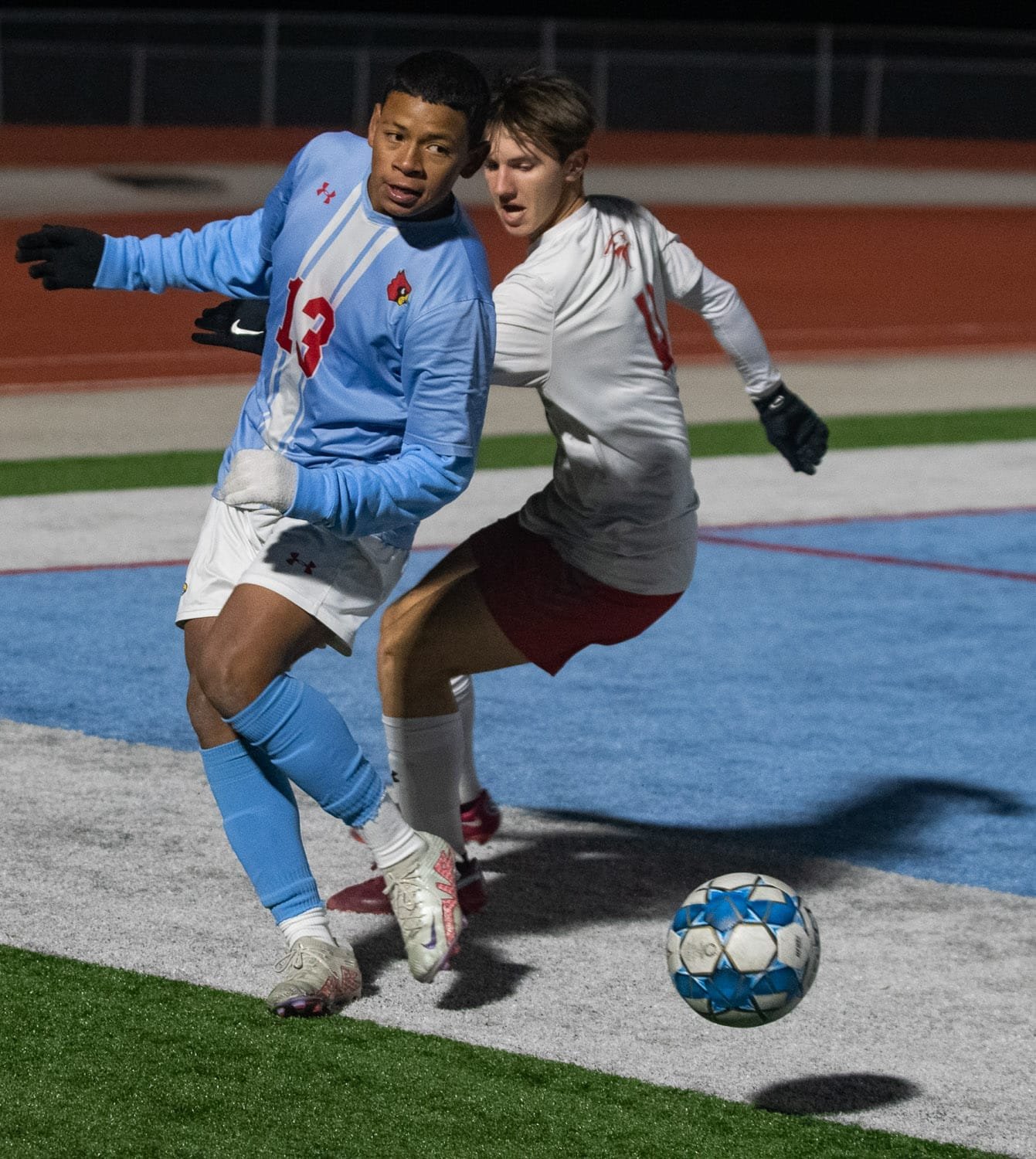 Luis Puerto (13) during a recent home game against Nixa.
Webb City hosts soccer district tournament starting Saturday
Cardinal Stadium is the site of the Class 3 District 6 soccer tournament this year – and the Cardinals are seeded first.
Webb City and No. 8 Ruskin will play the first game at 11 a.m. Saturday. There are three other games in the bracket's opening round, including No. 2 Willard vs. No. 7 Carl Junction at 2:30 p.m.
The two semifinal games are set for 5 and 7 p.m. Tuesday. The final will be at 5 p.m. Thursday.
"Our district is pretty competitive, which will no doubt make it exciting," says coach Nicholas Harmon. "Most teams in the district will be pretty evenly matched."
After a tough string of games in the middle of the season and a few injuries, Harmon says all of his players are back and healthy. "And we've been playing at a much higher level the last several weeks. We're confident heading into the post season, and I'm excited to watch the boys compete."
The Cardinals will wrap up their regular season at home Thursday against McDonald County. After a 2-1 loss at Republic Tuesday, they are 9-11 overall and 3-6 in the Central Ozark Conference.
Cross country Cardinals compete in district at Nixa Saturday for state berths
Webb City cross country runners will have their chance to advance to state Saturday when they compete in the Class 4 District 2 meet at Nixa.
Senior Abi Street is on pace to win the district title and place in the top three at state, according to coach Dustin Miller. She has won four of six meets.
Brooke Hedger has been the No. 2 runner all year. Also in the top five are Kristina Bundy, Rachel Miller and Holly Capron. Hedger, Bundy and Capron are freshmen. Miller is a sophomore.
Junior Evan Stevens is having a breakthrough season for the boys squad, and Miller says he is No. 2 in the program's history, behind Ryan Riddle.
The other top boys runners are Mason Hedger, junior; Andrew Dawson, freshman; Spencer Kendall, sophomore, and Dakota Grove, junior.
The state meet will be Nov. 4-5 at Columbia.