Cardinals signing day
Four seniors signed college letters of intent Thursday, May 26, at Webb City High School. Max Higginbotham will play basketball at Westminster College in Fulton. While Peru State College, in Peru, Neb., is signing three Cardinal football players, Braxton Surber, Buddy Belcher and Brentan Wilson. Parents behind them are Bob and Courtney Higginbotham, Austin and Cassie (not pictured) Surber, Summer and Josh Belcher, and Stephanie and Jared Wilson. 
Webb City pole vaulter Grayson Smith wins gold at state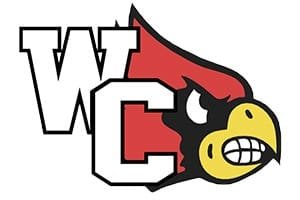 Grayson Smith led Webb City at the Class 4 state track meet in Jefferson City last weekend with a first-place in pole vault.
Smith, a junior, cleared the bar at 15'5.75." Justin Allen placed fourth in the same event.
They scored more than half of the points accumulated by the boys team, which placed 13th.
Also scoring team points by finishing in the top eight were Trey Roets, third in javelin, Evan Stevens, seventh in the 3200, and the sixth-place 4×800 team.
Senior Riley Hawkins and sophomore Dawsyn Decker both placed fourth in their events to lead the Webb City girls squad. 
In addition to coming in fourth in the 1600, Hawkins was 12th in the 800 run. Sophomore Abi Street finished 12th in the 3200.
Decker, a sophomore medaled in javelin. Freshman Samantha Mancini was seventh in shot put.
The 4×800 relay team placed eighth.