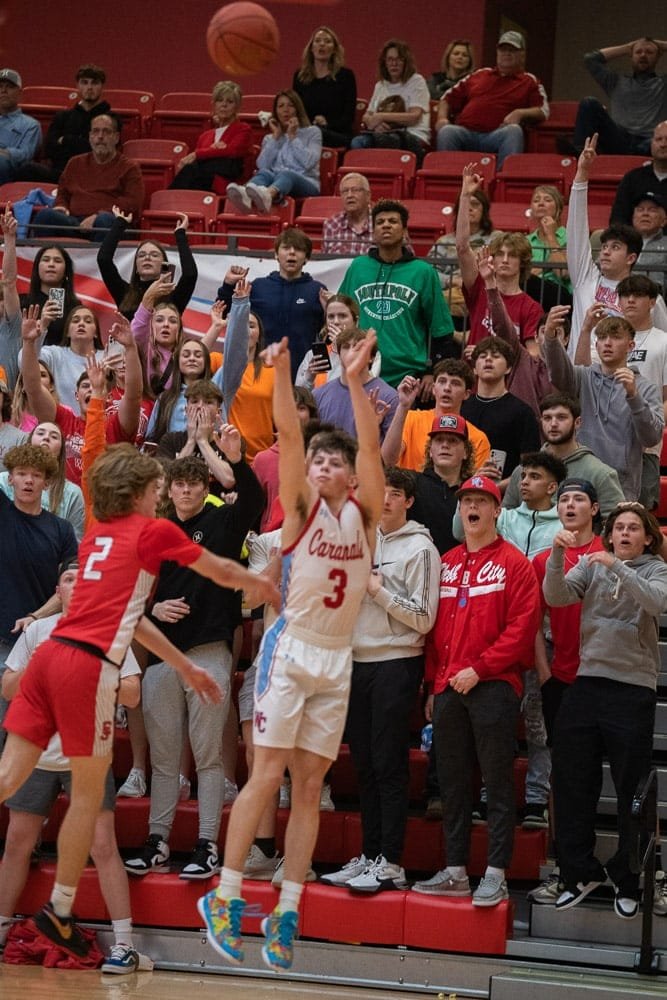 Fans have good reason to anticipate Joe Adams' 3-point attempt will swish during the second overtime against Carl Junction Tuesday. 
Webb City wins 68-66 double-overtime nail-biter
Carl Junction didn't play like a seventh seed
Senior night in the Cardinal Dome on Tuesday was senior Joe Adams' night.
His 3-point shooting kept the Cardinals in the game as the visiting Carl Junction Bulldogs took a big early lead.
His sixth trey tied the game at 42-42 near the end of the third quarter. And his seventh tied it at 57-57, which was the score at the end of regulation.
Barron Duda's three gave Webb City the lead (60-59) for the first time as overtime began. 
The first overtime ended 61-61. Adams added two free throws in the second overtime. He missed what would have been his eighth 3-pointer, but Holton Keith got the rebound and put it in for the 68-66 win.
Two more seniors had big nights. Alex Martin grabbed 12 rebounds and scored nine. And Trey Roets was cheered just for appearing without a sling that's been on his arm most of the season and played for a short time.
Adams shot 50% of his 3-point attempts and was the Cardinals' leading scorer, with 23.
Junior Barron Duda scored 17 points, and sophomore Holton Keith scored 11.
Bulldog Ayden Bard led all scorers, with 27, and Cooper Vediz added 14.
Tuesday night's game was a preview of a game with higher stakes. 
Webb City will face Carl Junction again in the opening round of the Class 5 District 7 tournament at 7 p.m. Wednesday, March 1, at Belton. Webb City (16-9) is seeded second behind top seed Grandview. Carl Junction (8-18) is seeded seventh.
Alex Martin dishes to an outside shooter.
Girls district tournament is here next week
The Webb City girls came within 3 points (56-53) of beating the Carl Junction Bulldogs Monday in the Cardinal Dome.
State-ranked Carl Junction (25-1) is the top seed, and Webb City (15-10) is the second seed in the Class 5 District 7 tournament, which gets underway here next week.
The Bulldogs increased their 21-16 halftime lead in the third quarter before the Cardinals came back and outscored the visitors 22-16 in the fourth quarter.
Sami Mancini shot a game-high 22 points for the Cardinals, while Mia Robbins added 12.
The Cardinals will take on seventh-seeded Belton at 5 p.m. Thursday, March 2.
Colt Taylor to wrestle at state
Junior Colt Taylor was cheered during halftime Tuesday because he'll be representing Webb City in the state wrestling championships at Columbia this weekend.
Taylor, 28-17, placed second in the 132-pound class Saturday in the district tournament at Carl Junction.