Ancestors, Legends & Time
Webb City – Zinc Capital of the World
This is one of my favorite pictures of the past. It shows the huge sign that was erected at the West End.
It spanned West Daugherty Street, between 913 and 915 W. Daugherty St. The sign was so big you can see two men standing on each side of MO. About half way down the pole on the right you can see another man standing by the fire bell of the West End Fire Department. He is on the overhang porch roof of the grocery store. 
The location of the fire station later was Gus Peek Cafe, 1928, Hi Jolly Cafe 1939 and Setser's Cafe.The grocery store at 911 W. Daugherty is where Smith Ice and Fuel was located. It was also later known as Brook's Potato Chip Co., Webb City Ice and Fuel, Quick Serv Market, and Millsap Produce and Grocery. It's now a Frisco Mission parking lot.  
Across the street at 912 W. Daugherty is Crocker Brothers Meat Market. Before it was Crocker Brothers, it was O.P. Brown Grocery. On down to the west about the middle of the picture at Daugherty and Madison, you can see Berrian's Grocery Store. Many of the buildings on the right that blocking the view of Frisco Depot have been gone for many years.
The purpose of the huge metal sign was to allow the tourists to see the sign and recognize that Webb City was the Zinc Capital of the World. The 3.5 mile radius of Webb City produced more zinc than any other like area of the world. Quite a title to live up to.
Although through the years, you see other area towns holding onto the same title. There's a picture indicating that magnificent metal sign wound up being displayed at the salvage yard at the "Y" where Broadway and East Daugherty merge.
The popularity of the memorable sign received new attention as Cardinal Scales reproduced a smaller version of the landmark. It measured 36 feet by 25 feet, and they gave it a place of honor at the entrance to King Jack Park on South Main in 1996. (We don't have the measurements of the original sign.) The sign was temporarily removed as the entrance to the park was remodeled. Only to discover the sign was damaged while in storage. So we have lost two Zinc City signs through Webb City's history.
I like that old picture so much I put it on the front of my new book, "The Zinc City, Webb City, Missouri" which was published in September. One place you can buy it is Maggie Jane's, 8 S. Main St.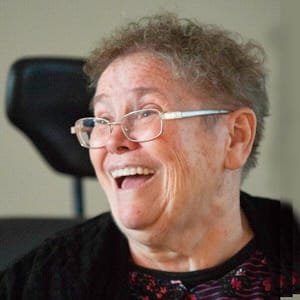 Jeanne Newby
A lot of us appreciate the Bradbury Bishop Fountain, but Jeanne actually worked behind the counter making sodas while she was in high school. She knows everything about Webb City and is a member of the Webb City R-7 School Board.