Charlie Phillips checks on a high tunnel shielding plants from the snow at Misty Morning Farm near Mulberry, Kan. (MISTY PHILLIPS PHOTO)
Welcome sunlight: Full-grow mode follows on heels of deep freeze
High tunnels saved the strawberries and tomatoes
We're back on track for spring! And this sunshine is coaxing all the plants in the high tunnels into full growing mode. 
One of the trickier parts of winter production is the fact that plants barely grow during the winter when daylight hours are short. That means the farmer must get the crops in the high tunnel in time for them to be almost fully mature when those short days begin toward the end of November. Then the farmer can harvest off the plants until the days begin lengthening when they jump back into full growth mode – which they've been doing big time since the sun broke out after the freezing weather.
This is also the time of year when the high tunnel farmers are planting loads of new plants. I spoke to Karen at OakWoods a few days ago and it was Kale Day. They spent the whole day planting hundreds of young kale plants which, with the sun back, will soon be ready for harvest, replacing the winter kale.
This is the time of year that I touch base with some of our farmers who have not been at the market. The Pates are doing well, though they doubt the peach crop is. They'll know for sure when the blooms begin – or don't. Happily their strawberries, which are planted in high tunnels, came through the freeze just fine and their high-tunnel tomatoes are already blooming. 
Harmony Hill also has tomatoes in bloom which means early tomatoes. Look for them in early May.
Tim Green is sure he'll have some raspberries and blackberries because he planted them in one of his high tunnels. He said the canes are reaching into the braces at the top of the tunnel. He gave up strawberries because he decided he was only going to grow crops he could harvest standing up. To harvest his berries it looks like he'll not only have to stand up; he'll have to do it on a ladder!
The weather forecast for Saturday looks good and the vendor forecast looks good too. Here's who we expect:
FARMERS
Braker Berry Farm – fresh produce
Fairhaven Garden – picked-out pecans, jams, jellies, peanut butter balls, brittle
Harmony Hill – biscuits and gravy, eggs to order, pupusas made at the market, produce, baked goods
Helm Family Farm – honey and honey products
MO Mushrooms – fresh and dried mushrooms and other mushroom products
OakWoods Farm – fresh produce
Yang Family Vegetables – fresh produce
RANCHERS
Clear Water Shrimp
Misty Morning Farms–beef
Sunny Lane Farm – beef, lamb, pork, chicken
BAKERS
Harmony Hill – country breads, cookies, biscotti
Redings Mill – artisan breads, pizza crusts
OTHER GOODIES
DnD Smoked – spices, mixes
Harvest Hill – eggs
Juniper Coffee – House syrup, freshly ground coffee beans, coffee drinks
Songbird's Kitchen – Asian cuisine
2Ts Soap & Stuff – soaps, beard products, lotions
The Free Kids Meal this Saturday is served from 9 to 11. Breakfast is breakfast casserole, fruit salad, and milk. Lunch is lasagna, broccoli, applesauce, and milk. It's free to anyone from age 1 through 18. Adults can pick up meals for their kids. Just show us a photo of you and the kids so we can get a head count.
Luke Smith will be on the market stage.
If you take a stroll north of the pavilion you'll see the paint on the grass marking the new garden that will be going in soon. Spring is on the way which means more produce at every market. Come watch us grow. See you at the market.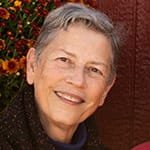 Eileen Nichols founded the Webb City Farmers Market in 2000. From a handful of producers, the market has grown to become nationally recognized.