Welcome to the neighborhood
It's gone now, but there was enough snow last weekend to build snow people on Matthew Circle.
New 24-hour help-line program for students and parents almost ready
Getting acquainted with the district's new 24-hour help-line is one of the things did Monday during their professional-development day.
Paper is a 24/7 chatline that will be available starting as early as next week to help students and parents solve problems they're having with school work.
It can even be used at school to give feedback on writing assignments. And teachers can check on what their students have been seeking help with.
The board approved a 19-month contract in December with Paper at a cost of $49 per student.
It was mentioned that Webb City will be the first district in Missouri to contract with Paper.
Julie Maskus, Cole Cavitt, Braden Green, Josh Howard and Nerissa Burlingame.
Students and Staff of the Month
Senior Josh Howard and sophomore Cole Cavitt are the Webb City High School January Students of the Month. They were nominated by teachers Julie Maskus and Nerissa Burlingame for all of the love and kindness they have shown to their pal, junior Braden Green.
Math teacher Deena Stinnett, nominated by Nikki Hensley, and Spanish teacher Paulina Banta, nominated by Spencer Kendall, are the WCHS Staff of the Month.
Deena Stinnett and Nikki Hensley.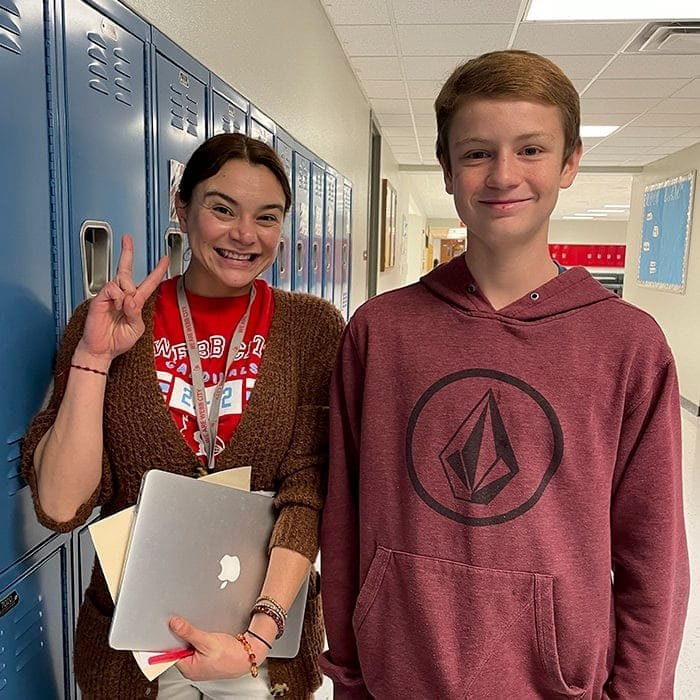 Paulina Banta and Spencer Kendall.
JLT's Valentine Concert is 'All You Need Is Love'
Tickets can now be reserved for Joplin Little TheSeventh Biennial Valentine Concert.
"All You Need Is Love," featuring the greatest hits of the Beatles, is directed by Carolyn McGowan.
Over 40 singers, dancers, and musicians will be performing.
There will be two shows, at 6:30 p.m. Saturday, Feb. 12, and at 2:30 p.m. Sunday, Feb. 13. Masks will be required for the audience.
Tickets can be reserved by dropping by the theatre or calling (417) 623-3638 (9 a.m. – 2 p.m. Monday through Thursday). They are all general admission and cost $12. They are not available online.
Joplin Little Theatre is located at 3009 W. First Street, Joplin MO  64801′
Mediacom announces new high-speed internet programs to connect low-income households
Mediacom Communications announces it is participating in the federal government's Affordable Connectivity Program (ACP), a new program designed to help more Americans lower the monthly cost of home internet service. 
The ACP is administered by the Federal Communications Commission (FCC). Qualifying households can receive a credit of up to $30 off their monthly internet service bill. Eligibility is defined by the FCC and targets households with income less than 200% of the Federal Poverty Guidelines or that participate in government programs such as SNAP, Medicaid, WIC, and Lifeline. 
To maximize the ACP benefit, Mediacom has launched a new internet service called Connect2Compete-Plus (C2C+) with a $30 per month price including modem and unlimited data for qualifying households. The new C2C+ tier delivers internet download speeds of up to 50 Mbps and is one of many speed options available to customers who participate in the ACP. 
"With more people than ever before working and studying from home due to the COVID pandemic, access to high-speed broadband is a necessity for most families," said Ed Pardini, Mediacom's senior vice president of field operations. "By participating in ACP and launching C2C+, we hope to provide more opportunities for low-income households to get and stay connected to the internet."
Recent federal legislation created the ACP to replace the temporary Emergency Broadband Benefit (EBB) program. Mediacom enrolled more than 13,000 households in the EBB program during 2021. Existing EBB customers will continue to receive monthly benefits of up to $50 per month through March 1. Mediacom is working with its EBB customers to transition them into the ACP. 
The ACP benefit is available to both new and existing Mediacom customers who qualify.  Households interested in participating in the ACP must confirm eligibility through the Affordable Connectivity Website and can then enroll in the program. Information can be found online (below) or by calling: 855-330-6918 (toll-free).
http://www.mediacomcable.com/acp
NOTE: According to the application website, Craw-Kan Telephone, Sparklight and Wisper are also participating in the ACP discount program.