We'll be reading about – and eating – green eggs and ham
Things are hoppin' at the market this Saturday. In addition to its usual array of fresh local produce and locally made specialty foods and other delights, we're celebrating Dr. Seuss's birthday.
Old No. 60, Webb City's historic streetcar, is pulling out of the station just west of the market from 9:30 to 11:40 a.m.. The free rides feature Webb City Public Library volunteers Ann Foos, Cathy Hall, and Deb White reading the Suess book, "Green Eggs and Ham." This is the first of the book's themes "Would you could you on a train (streetcar)…".
Another is "Would you on a boat." For that, we'll have a free "fishing" activity where kids can fish for seed packets. We will also be sharing information about the opening of the Market Sprouts program in May. (More on that in May when the kids gardening program begins).
"Would you eat them with a goat" will feature a live goat to interact with kids near the market's red barn.
Elsewhere (depending on the wind) there will be a free edible treat for every child, where we'll also be announcing our opening day for the Free Kids Summer Meal. Queen of Crafts, Lisa Sweet, will have free crafts for the kids.
The market will serve a Seuss breakfast of Green Ham, egg, and cheese biscuit for $5 from 9 to 11 a.m. All breakfast profits will support World Central Kitchen. WCK is currently operating meal sites in 55 cities in and around Ukraine. Setting up and operating on day 2 of the Russian invasion, WCK and its local partner, #ChefsForUkraine, had as of last Sunday served 1,000,000 meals. There will also be a donation jar at the breakfast for folks wishing to donate to WCK. For more information, go to wck.org.
Banjo player Jonny Wood plays on the market stage from 9 to 11. What better for a Seuss celebration than a banjo? Well, OK, a three-nozzled bloozer or a one-nozzled noozer, but we couldn't find any of those.
You've probably heard the saying that's been around since the '60s "Think Globally, Act Locally"? Well, this Saturday is your chance to do that and so much more. Have a grand time at the market this Saturday!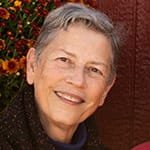 Eileen Nichols founded the Webb City Farmers Market in 2000. From a handful of producers, the market has grown to become nationally recognized.