We're open Friday, Christmas Eve 
See you FRIDAY – not Saturday this week – for Christmas Eve Market this week
We're also taking off next Saturday, New Year's Day
Y'all, last weekend was great. We met new faces, there was nice weather, and the credit card reader at the information table ran smoothly. I could cry from happiness about that last one. 
Plus, since it was the biggest weekend for the Christkindlemarket, things seemed extra jolly. Several of those vendors will be back for the Christmas Eve Market, like Jane's Glass Art and Diamond Z Leather.
Also on Friday, Pupusaria Jandres and the Market Kitchen will set up to serve lunch. You can also grab a cup of Holiday Wassail at the Christmas Eve Market.
Why do we have a Christmas Eve Market? First off, a large group of people get to enjoy this day off from work, and we try to be a normal gathering place, much like a coffee shop or public park. I mean we literally operate at a city park, but we're not the park or the city. Still, parks are a great place to gather your community, so we gather ours at King Jack Park in the friendly little town of Webb City.
Another reason for this year's Christmas Eve Market, open from 10 a.m. to 2 p.m. Friday, is timing.
Again, the time of this market will be 10 a.m. to 2 p.m. on a Friday, instead of Saturday because the timing of Christmas this year. 
Then, bam, New Years Day is sprung on the very next Saturday. 
On Christmas we would never be open, and we choose this year to be closed New Years Day. That would be two weekends in a row our customers would without local groceries and local food businesses would miss their sales. Thus, we will open on Christmas Eve.
Time with family is worth it so we're thankful this back-to-back closure is split between months. At the Christmas Eve Market I'll be preparing to take home two weeks of groceries but stocking up for months of pasta.
In case you haven't heard, we are welcoming home some of our market-family on Friday. Mama Jojo's Pasta is making a special appearance for the Christmas Eve Market to sell fresh pasta and their signature red sauce. 
Mama Jojo's was started by JT and Nicole Amos. They started at market around the time I was a fresh employee here years back. They had such success that JT and Nicole now own and operate The Famos Grill in Carterville. It's right down the road from the market (in the old Dairy Cream at Main and Pine streets), and if you haven't eaten there yet you're missing out.
The Amos family, with the help of a few friends, opened their restaurant during a rather challenging period for businesses, the beginning of the current pandemic. Their opening was complicated due to the shut down, and then they had to stick it out through dismissal customer traffic after things opened back up. With on target heath precautions, the Famos Grill is helping to liven up the main strip of it's town.
On Mama Jojo's last weekend before opening the restaurant, JT promised they would be back. We are so happy that day is this Friday. So seeing how this is just a pop-up spot, not a full return, I will be buying lots of pasta with the intention of freezing it.
It takes a community to support local businesses, and it takes a farmers market to ignite local food companies. Let's talk through a scenario for a moment.
Farmer Webb wants to move to the area and grow fancy tomatoes. Those deep purply ones or stripy yellow ones, you know, the centerfolds for the Baker Creek Seed Catalog. Farmer Webb builds his soil, sows his seeds, and by all miracles has a beautiful crop come June.
Farmer Webb has heard about the flocks of folks who eat local from the Webb City Farmers Market so he decides to make his debut selling at our market. Exactly like our real farmers, our imaginary Farmer Webb is a rockstar at growing vegetables. However, with such a niche product, even with regular customers, they'll only see about $14,000 in annual tomato sales from this site.
Not many of us have supported a family, much less a farm business too on that little. Um, Rachael, two paragraphs up didn't you say farmers markets, ignite food companies? Yes, I did. That 14k in direct-to-customer market sales will cover the cost of Farmer Webb's tomato field, and with a little change to spare, here's where the money comes in.
The small businesses at farmers markets are easily found by chefs or local market and restaurant owners. By selling at the market, Farmer Webb now has weekly bulk orders to fill throughout the week. This brings in gainful, reliable revenue for the Webb farm. Now, with the home base at our farmers market and income from weekly buyers, Farmer Webb hires some help and uses 100% of the remainder of his crop to spring a fresh line of marinara sauces ushering in sustainable success.
Webb City Farmers Market has something additional up its sleeve. Thanks to the bold nature of our founder and the support of our city, we operate a health-inspected kitchen. We are proud to offer our vendors reduced rates for kitchen rental with all the specialized equipment as a part of the deal. 
Farmer Webb's marinara sauce expansion can be made without the overwhelming startup costs that come with commercial kitchen equipment and space.
Did you see the flame I was referencing? Did you notice the moment a little dream, a huge amount of work, and a farmers market started something? That's what I'm talking about and it's what you can find out about by shopping with us.
We're open (almost) every Saturday year round, though we ask you to excuse us for the next two weekends as we spend time refueling with friends and family. See all you beautiful people Saa…, I mean Friday!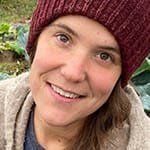 Rachael Lynch
Rachael Lynch is the manager of the Webb City Farmers Market.  For more current updates, visit the market's Facebook page.