We're raising money again this Saturday to fund our Women, Infants and Children program
The holiday's are off to a great start at Webb City Farmers Market. 
Our Fundraiser for Families kicked off to a great start last weekend, raising $200 for the Market WIC Program. Folks who donated picked a handmade clay bowl and received a ticket that will be redeemed this Saturday for a serving of hot, made-from-scratch, soup. 
This will be the final Saturday that you can help the  Fundraiser for Families, but at any time we can earmark your donation to benefit Women, Infants and Children through our WIC Program.
The money collected supports the coupons the market gives to WIC households each week. Parents and caregivers can receive market coupons valued up to $40 a month to buy vegetables, fruit, meat, or eggs for their little ones at home. 
Since this is a privately funded program, with 100% of donations going directly to fund the coupons, support from folks like you is the life source for this program.
Tis' the season of greens. I'm not talking about trees, I am referring to rich, deep green foods so wonderful I feel like skip-stepping through the market when I shop. Tables are full of cold weather crops like, butterhead lettuce, whose appearance is one closer to a huge flower than a salad green. There's bok choy, Brussels sprouts, mustard greens, spinach, pea shoots, sweet crisp lettuce mixes, and bright, fresh herbs like cilantro and parsley.
Green, leafy foods provide a powerful punch for your body's immune system, which is of crucial importance during the winter when we are indoors getting less sunlight. 
The holidays are the worst time for illness to creep into a home, but it's all too easy to occur as we travel to other areas visiting family. So eat those veggies and enjoy only spreading joy this season.
Visiting family is something many of our vendors are thankful for this year. Last year, local farmers were still working sun up to sun down providing pristine care to their crops to ensure food shortages didn't affect farmers markets. They were successful. We never ran out of locally raised meats or the vegetables grown at local farms. When other stores had no bread, area bakers stepped up their production. When you couldn't find vegetables at the box stores, you could find them at our farm stands.
So when six vendors informed me they'd be with family last Saturday, my heart was happy. It meant a slow Saturday. But folks, no one deserves time off more than those who grow our food.
Come visit with them all again this Saturday. There will be hot foods, vegetables, pecans, and farm-fresh eggs. Garrett Family Farm and Sunnylane Farm will be here with all-natural pork, chicken, beef, and lamb. Mabel will make a special appearance bringing loaf bread, cinnamon rolls, cookies, and other baked delights. The musicians of Robin's Hood will be back playing seasonal favorites between 9-11 a.m.
Streetcar No. 60 is decorated for the Polar Bear Express. (RACHAEL LYNCH PHOTOS)
We'll end this with a fun thing I got to do this week, which is decorating Streetcar No. 60. It's a tradition for the market to string the silver and blue garland, and hang ornaments and bows that will glisten in the Christmas lights of The Polar Bear Express. 
Over the next three weeks, the Parks Department will take more than 4,000 riders on a magically lit route around the track. Decorating the streetcar is a tiny task but one that is a treasured job, making the holidays a unique time for Webb City Farmers Market.
Although tickets for the nighttime Polar Bear Express rides are sold out, for the next three Saturday mornings, on Dec. 4, 11 and 18, you and your little ones can ride the trolley for our book version of Polar Bear Express. Friends of the Webb City Public Library will read Chris Van Allsburg's book "The Polar Express" as the streetcar rumbles around King Jack Park. The ride is free and leaves the station every 20 minutes between 9-11:40 a.m.
If you'd like to see the spectacle of lights but didn't snag tickets for the ride around the park you can still enjoy driving through the park, the lights will be on until New Years Day. I like to bundle up my children, pack some cocoa, and take an evening walk in King Jack's winter wonderland.
Thanks, everyone. Let's make this a great week! See you Saturday.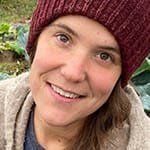 Rachael Lynch
Rachael Lynch is the manager of the Webb City Farmers Market.  For more current updates, visit the market's Facebook page.