Pre-Route 66 Cruise-A-Palooza. This circa 1924 photo is looking west on Main (now Broadway) Street toward the John Webb home (far left), facing Webb Street. The first car is an early '20s Scripps Booth. The next one is a 1921-23 Oldsmobile Model 43A, 46 or 47 (V8?). The fifth from the right is a pre-1923 Model T.
From the 3rd floor
of the Webb City Public Library
What was Webb City like 100 years ago?
We do not have many photographs of Webb City from the 1920s, but those we have for you this week are pretty good.
One in particular, shows the home of founder John C. Webb, as the city was growing around it.
In 1927 civics students, at the direction of high school teacher Miss Ella Helm, completed an industrial survey of Webb City. Among the interesting points were the following:
From 1894 to 1904 Webb City produced $23,000,000 in lead and zinc.
Webb City's assessed valuation was $4,773,000, of which $2,953,000 was in real estate.
The banks' resources were $2,912,911.
Some wages were: foundry, $2.76 to $6 per day; shoe factory, $6 to $8 per day piece work; West Side machine shops, $5 to $6 per day; railroads $90 to $200 per month; streetcar line $100 to $175 per month plus $4.50 bonus for no accidents.
The number of homes in Webb City was 2,069; of which 1,162 were owned by occupants, 883 rented, and 797 were owned free of mortgage.
Some 290 women or girls worked in factories.
In Masonry, Webb City had two 33rd degree men and one, W. D. Richardson, said to be the best read Mason in the United States.
The schools had 1,736 students and 52 teachers.
The churches had an average of 320 members each, with 308 average Sunday school attendance.
Looking south on Allen (now Main) Street from Daugherty Street in the 1920s, judging from the cars.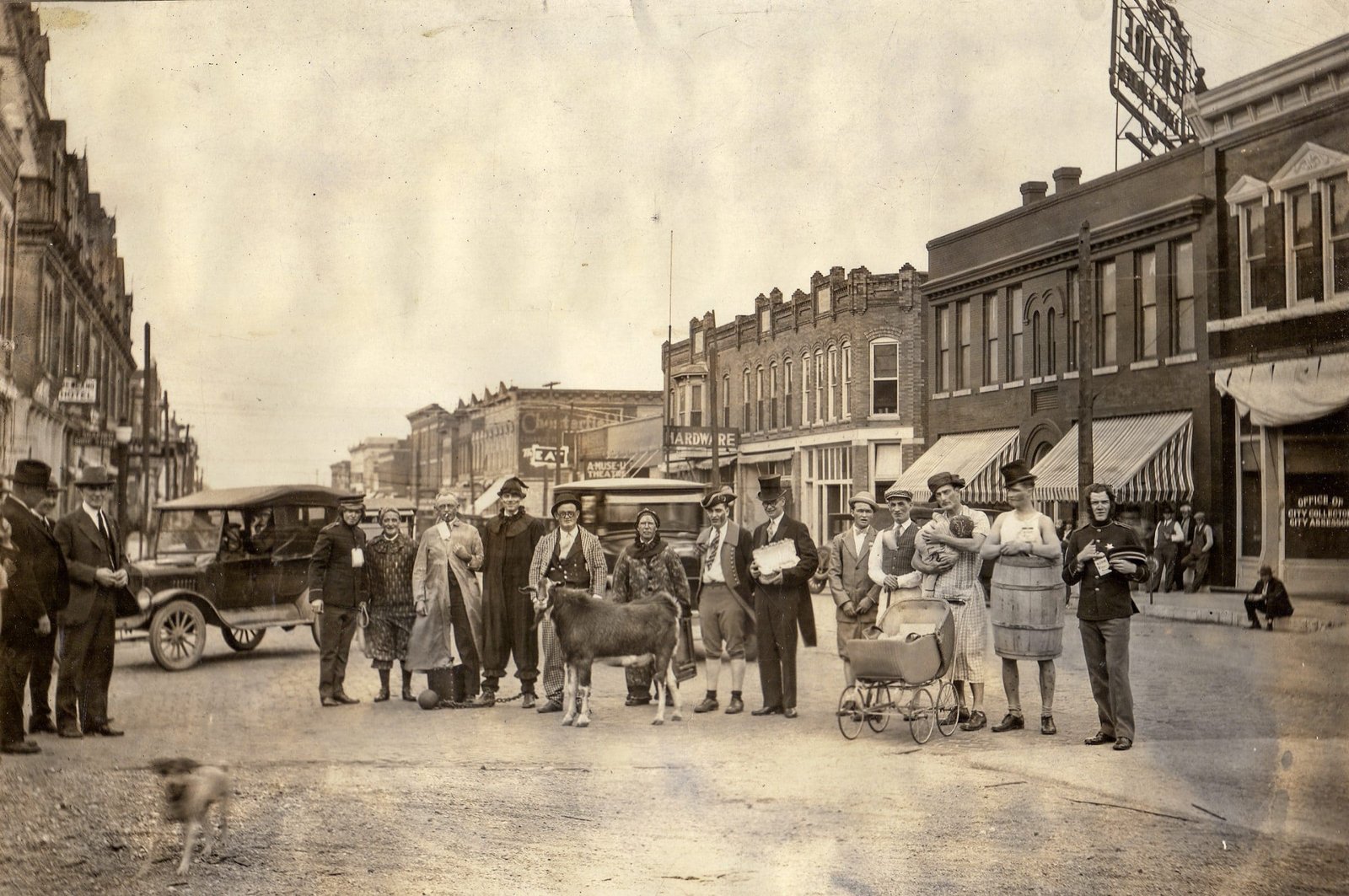 Was it Halloween perhaps when this picture was taken? The view is north on Allen (now Main) Street from First Street, in front of old City Hall, on the right.
Sentinel bound volumes are now in the Genealogy Room
The WCAGS has accepted ownership of the complete collection of bound volumes of the Webb City Sentinel, from 1983 (after the fire) until the final issue on Dec. 30, 2020.
Those issues can also be viewed on microfilm, along with much older issues.
Webb City Area Genealogical Society
WCAGS members staff the Genealogy Room on the third floor of the Webb City Public Library. Current hours are noon to 4 p.m. weekdays and 10 a.m. to 2 p.m. Saturdays. Meetings are held at 6 p.m. on the first Tuesday of each month in the Genealogy Room.
Everything you want to know about Jasper County Missouri Schools is available at a site compiled by Webb City Area Genealogical Society member Kathy Sidenstricker.