Market's WIC program funded through summer
Thanks to The Corley Memorial Trust
We received exciting news this week. The Corley Memorial Trust has awarded the market's WIC program $2,000! That covers a quarter of the program's current annual cost. The Corley gift ensures this privately funded program will continue helping our lowest income little neighbors have healthy diets all summer.
The late entrepreneur William "Bob" Corely was a generous philanthropist. He was a supporter of Missouri Southern State University, where you can find the Corely Auditorium and the Corely Dental Hygiene Clinic. He also supported both Freeman and Mercy hospitals, and was a major contributor to the Kansas City University Medicine and Biosciences campus in Joplin. He also supported a wide range of other organizations in the area. Upon his death in 2019, the Corely Memorial Trust was established and has awarded funds twice thus far, totally some $400,000. The trust has a special interest in the homeless and impoverished. What a tremendous legacy Mr. Corely has left us.
The WIC program (Women Infants Children) is a federal program for children up to 5 years 1 month and new and expectant mothers in very low income families. Its goal is to help those families have the healthy diets needed to build strong young bodies. The market's program does not use federal funding, but with permission of the health department, it uses the WIC card to determine eligibility. This is perhaps the most deeply appreciated of all the market's hunger programs. Mothers have told us that it is the only way they can put fresh produce on their children's table. We have even had young moms tear up at the information table when they learned of it. If you would like to support the program or know of an organization that might want to be part, please let us know by calling or texting the market manager at (417) 438-5833 or stopping by the information table. Together we make a difference!
We're entering our busiest week of the year and are loaded with produce, both the late spring crops like greens and beets, and the summer crops like tomatoes, okra, cucumbers, and green beans. One of my favorites appeared this week – long bean. These looks a bit like green beans, except one or two feet long, and sometimes purple. And they taste a bit like green beans, only denser. My favorite way to prepare them is cut up and sauteed in olive oil with garlic. I do two bundles at a time because they reheat well in the microwave.
Tomorrow is our typical terrific Thursday when we have lots for kids – Eat from the Garden is an interactive kids' class presented by Ms. Lindsey who is a nutritional specialist with MU Extension. Kids get moving and learning with Ms. Lindsey every Thursday at 12:30 by the market gardens north of the pavilion. At 1 p.m. the Webb City Public Library hosts an outdoor story time.
The Free Kids Meal is served from 11-1 p.m. The menu is chili mac, 3-herb zucchini salad, blackberries, and milk. Any child, aged 1 through 18 eats for free, regardless of income or residency. Kids can eat under the yellow and white tent or take their meal to go (Splash Pad, anyone?). Adults may also pick up meals without their children present but must show a photo of themselves with the children for our headcount.
In the market pavilion, MU Extension will mix up cucumber, green onion, jalapeno and bell peppers and mango to create a tasty dish for sampling at their cooking demo table.
Pupusaria Jandres serves pupusas with meat and/or cheese and veggie filling for lunch. Family Pleitez makes South American snow cones (minutas), featuring a variety of homemade syrups. Juniper Coffee will have locally roasted beans, house syrup, drip coffee, and COLD BREW.
Randy & Phil play on the market stage from 11-1 p.m.
We're expecting six farms, along with a ranch, honey, baked goods, specialty marmalades and jams, and more on Thursday, which is a great day to beat the crowd and traffic.
On Saturday, we welcome back the Mayfields to the market stage. Their foot tapping bluegrass and gospel often grace the market when we open for the regular season and for our Independence Day market.
We expect all our usual vendors, plus Hillside Farm returns with elephant garlic and Jane's Art Glass with her beautiful fused glass to decorate your home (or yourself – she makes jewelry as well as window art).
Cooking for a Cause benefits PEO, which uses its profits to support Cottey College scholarships. The breakfast runs from 8:30 to 11. A full breakfast is $6 with ala carte options for less.
The streetcar will be giving free rides, weather permitting, from 9 until the crowd thins out, by noon at the latest.
The Free Kids Meal pack on Saturday is:
Breakfast – Blackberry yogurt parfaits with market-made granola, and milk.
Lunch – Baked cheese ziti, cucumber slices & cherry tomatoes, and milk.
It's served from 9 to 11 north of the pavilion.
On Tuesday, Master Gardener Nancy welcomes kids (and adults) to the market garden to help water, weed, and harvest. A sampling table will be set up for children to choose from the harvest, cut it with help, and try a bite.
The Free Kids Meal will be beef quesadillas, cheesy cauliflower, blueberries, and milk. It's serve from 4:30 to 6:30 north of the pavilion.
Just Jake and Corky will be on the market stage. Ghetto Taco and Songbird's Kitchen will serve supper.
See you at the market.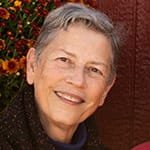 Eileen Nichols founded the Webb City Farmers Market in 2000. From a handful of producers, the market has grown to become nationally recognized.