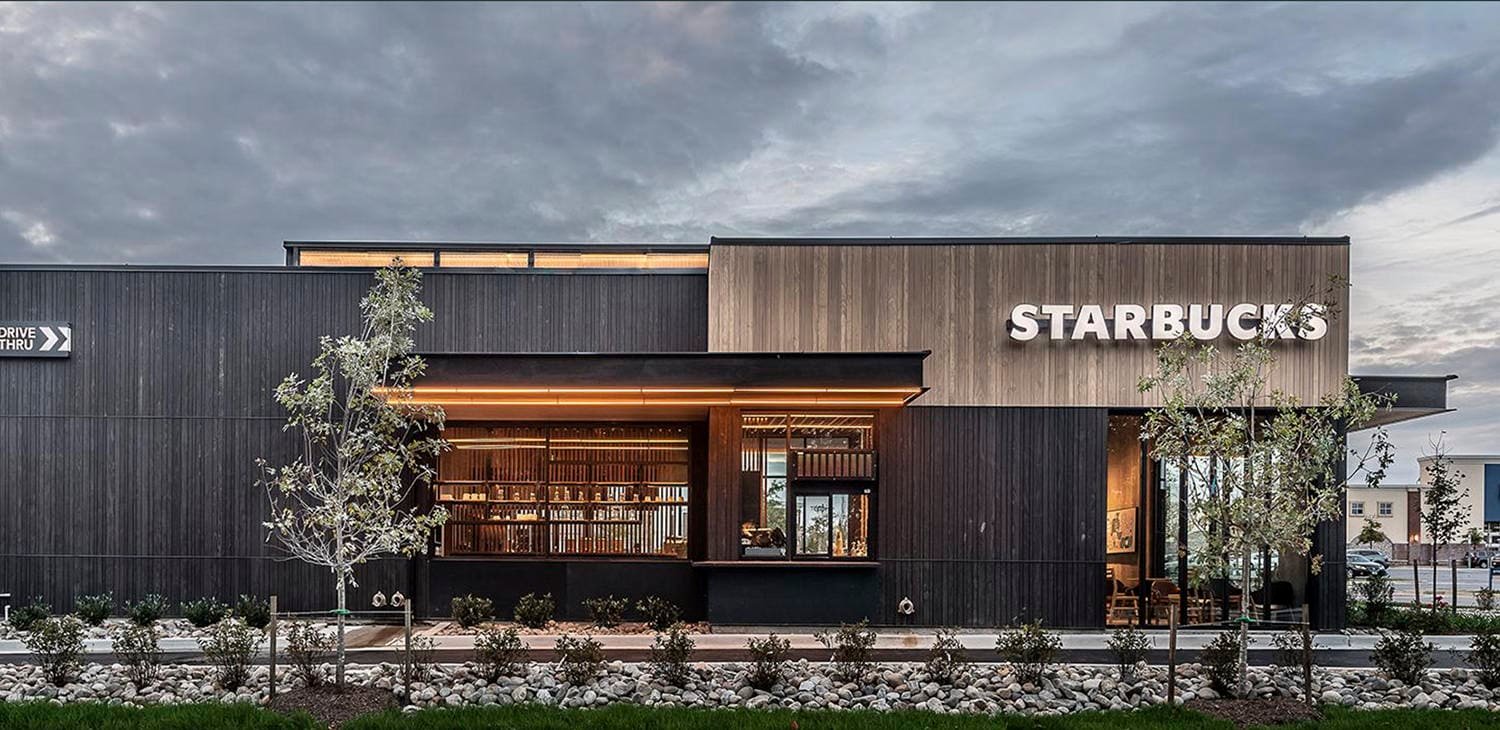 According to the site plan, the Starbucks in Webb City is being built in this style. (stories.starbucks.com)
Starbucks joins list of commercial construction sites in Webb City 
The abrupt end of rain might bad for your garden, but it's good for construction.
There are at least four commercial construction sites now in Webb City, and another one that hasn't been announced yet.
The newest site, on the southwest corner of Madison Street and 14th Street, is where a Starbucks is expected to be operating this fall. It's where the self-serve ice machine used to be, with Burger King across 14th Street.
Meanwhile, it's hard to miss the towering Zips carwash, a block away on the east side of South Madison Street.
City officials are amazed at how fast excavation is progressing for the Flat Creek Restaurant off the roundabout by Sleep Inn & Suites.
Go south on Hall Street and you'll likely notice the addition to White Flyer's manufacturing plant.
Starbucks, at 1400 S. Madison St., plans to attract coffee lovers driving thru or sitting down. Traffic will enter on Madison and either turn right to the parking lot or curve around the building to the drive-thru window. 
The building and drive-thru window will be next to the existing Oak Ridge Center. There's room for 15 cars in the drive-thru lane. The 34-space parking lot will be adjacent to 14th Street.
Starbucks will have a shared-access with Oak Ridge so drivers can go from one site to another without having to get back on Madison Street.
City Administrator Carl Francis is urging the City Council to mandate shared access for all new development on Madison Street, partly because the Missouri Department of Transportation is skimpy with the number of entrances it will allow on Madison (Business I-49).
The exterior of the 2,225 square-foot building will be brick, wood and Dryvit. Estimated value on the building permit is $989,073.
WEBB14, 5925 Beverly Avenue, Mission, Kan., is listed as the owner. At that same address is ReCor Properties. The general contractor is Allied Retail Concepts, Lenexa, Kan.
Flat Creek Restaurant, at 215 S. East St., is expected to be open around the first of the year. It is valued at $2.5 million on the building permit.
Goforth Construction is the general contractor.
Reagent Chemical & Research is building a $908,101 extension onto its manufacturing plant at 1400 S. Hall St.
Reagent operates two subsidiaries, White Flyer clay targets and ProSys Servo Filling Systems at the site.
Quarles Construction, also based on South Hall Street, is the general contractor.
There's a time-lapse video of the expansion project on the ProSys website.